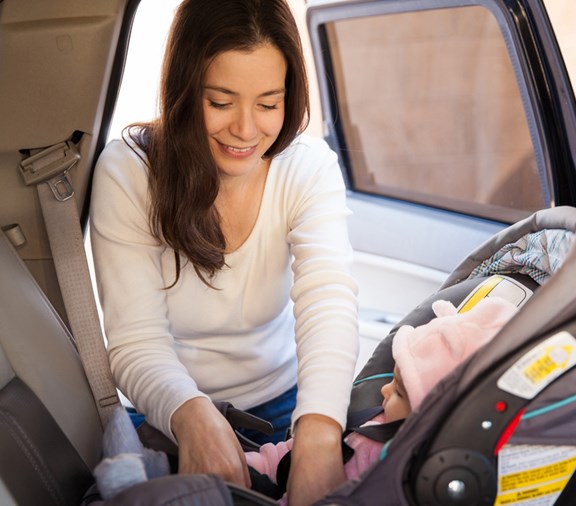 Free Car Seats, Free Safety Checks—and More!
November 15, 2021
You probably already know that Texas law requires children to ride in a car seat.
But did you know you can get a car seat for free?
Free car seats are just one of many Value-Added Services for pregnant women and new moms enrolled in a STAR Medicaid or CHIP insurance plan.
Keep reading to learn more about:
Types of car seats for babies, toddlers, and older children
How to get a free car seat
How to get help installing your car seat
Types of car seats
Car seats are made by many different companies, or brands. The brands design seats to protect children at different ages, heights, and weights.
A car seat designed for a baby might not be the right choice for your toddler.
When you choose a car seat, you will need to check the height and weight limits for the brand of seat. Consider your child's current size and think about how fast he or she is growing.
As they grow from infancy to early teen years, children will move through four stages, or types, of car seat:
Stage 1: Rear-facing seat
Your baby or toddler should ride in a rear-facing car seat until they are about two years old.
Stage 2: Convertible or forward-facing seat
When children are about two years old, they usually outgrow their first car seat. At this point, use a forward-facing car seat with a harness for as long as possible.
Stage 3: Forward-facing or booster seat
As your child moves from their toddler and preschool years, they will eventually exceed the height and weight limit for their forward-facing car seat. That's when it's time to switch to a belt-positioning booster seat. Children should use the booster seat until they reach 4 feet 9 inches in height and are between 8 and 12 years of age.
Stage 4: Seat belts
Eventually, your child will graduate out of the booster seat and use the shoulder and lap seat belt. Until they are at least13 years old, children are safest in the back seat.
How to get a free car seat
If you are enrolled in Parkland HEALTHfirst Medicaid STAR or KIDSfirst CHIP, you are eligible for a free Cosco Scenera Next 2Pk car seat.
You can use this car seat for:
babies and toddlers from 5-40 pounds (use in rear-facing position)
toddlers and young children from 22-40 pounds (use in forward-facing position)
To request this Parkland member reward, complete your first prenatal visit either:
within the first trimester of your pregnancy
within 42 days after you enroll in Parkland Community Health Plan
Then complete the car seat eligibility form on the Parkland Community Health Plan website.
You must complete the prenatal visit between September 1, 2022 and August 31, 2023.
Get a free car seat inspection
Many people are not sure how to properly install their child's car seat. A large percentage of car seats are not installed correctly.
That means the car seat might not keep children safe in an accident.
Need help? It's easy. Get a free safety checkup by certified technicians.
Enter your zip code to find a safety check location near you.
093_03_20211111_001MC