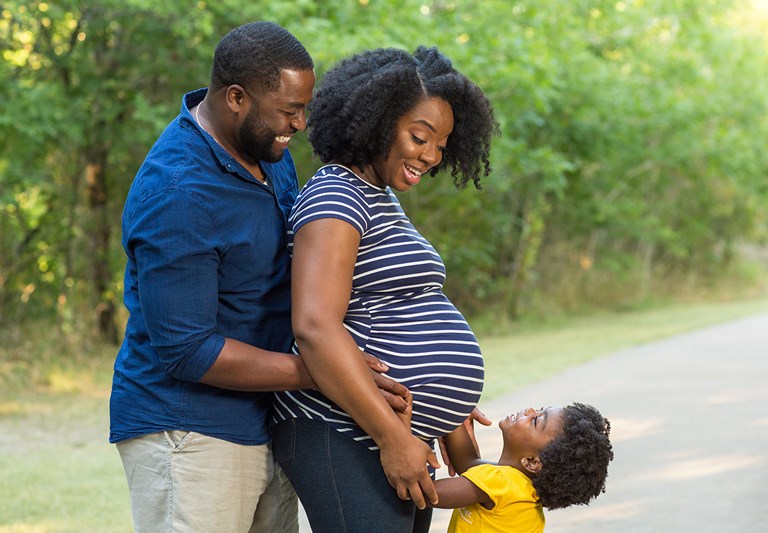 Parkland KIDSfirst CHIP Perinate
CHIP Perinatal services, under the CHIP program, offer no-cost prenatal care for pregnant women and their unborn children, even if the mother does not qualify for Medicaid.
Are you pregnant, a Texas resident, do not have insurance, and can't get Medicaid? You may be able to get perinatal coverage from CHIP for your unborn baby.
It covers your labor with delivery and your baby's health and medical services for its first months of life.

The coverage begins when you enroll the unborn baby while you are pregnant. After the 12 months of coverage ends, you can apply through the state CHIP office to have your baby covered under the CHIP program. Learn more in our Member Handbook.
You should see your child's doctor to ask about medical services for your child. Your baby will receive the same benefits as all other CHIP members, except there are no cost-sharing responsibilities (no copayments or deductibles).
---
Members may make changes to their account online at www.yourtexasbenefits.com, by calling 2-1-1, or by contacting a local HHSC benefits office.
---
Frequently Asked Questions
Call Member Services at 1-888-814-2352 (TTY 7-1-1) or view your Member Handbook.

Hours of operation are Monday - Friday from 8 am to 5 pm. 

If you have health-related questions, call our 24-hour Nurse Line at 1-800-357-3162 for help from a nurse 24 hours a day, 7 days a week.
We have special services for people who have trouble reading, hearing, or seeing, or speak a language other than English or Spanish.
Please call Member Services at 1-888-814-2352 (TTY 7-1-1) to contact interpreter services.
If you are a CHIP Perinate recipient, we offer regular benefits to you such as:
Up to 20 prenatal visits

During the first 28 weeks of pregnancy ― 1 visit every 4 weeks
During weeks 28 to 36 ― 1 visit every 2 to 3 weeks
36 weeks to delivery ― 1 visit per week
Additional prenatal visits are allowed if they are medically necessary

Some laboratory testing, assessments, planning services, education, and counseling
Prescription drug coverage based on the current CHIP formulary, including prescription prenatal vitamins
Diabetic supplies available through pharmacies with a physician prescription
Hospital facility charges and professional services charges related to the delivery.

For women with income from 199-202 percent of the FPL:

Both hospital and professional service charges paid through the CHIP perinatal health plan

For women with income at or below 198 percent of the FPL (this income range represents the majority of CHIP perinatal clients):

Professional service charges paid through CHIP
Hospital facility charges paid through Emergency Medicaid
Benefits once the child is born:
Two postpartum visits for the mother.
Once a child is discharged from the initial hospital admission, the child receives the traditional CHIP benefit package, or Medicaid, depending on their income. CHIP or Medicaid benefits include regular checkups, immunizations, and prescriptions for the baby after he or she leaves the hospital.
Depending on income, the newborn may get Medicaid from birth to their first birthday. Most CHIP perinatal infants qualify for Medicaid. If the baby is eligible to get Medicaid, the mother will receive a letter and Form H3038-P, CHIP Perinatal - Emergency Medical Services Certification, in the mail before delivery.
If you are enrolled in the CHIP Perinate insurance plan, you can get many great services in addition to your regular benefits.
These are called Value-Added Services,* and they include:
24/7 Nurse Line / CHIP Perinatal: 214-266-8766 - Talk to a nurse who can help you with questions on what to do about your or your child's health needs.
Free meal service for pregnant women starting at the 2nd trimester through 60 days postpartum.
*Restrictions and limitations may apply.
Once you have chosen Parkland Community Health Plan, your next step is to select who will provide the majority of healthcare services to you. Your primary care physician (PCP) will be the one you call when you need medical advice, when you are sick, and when you need preventive care such as immunizations. Each member may select his or her own PCP.
You will select a PCP from PCHP's extensive network of family or general practitioners and pediatricians. The selection of a PCP is crucial for immediate access to acute and preventive care.
Click here for a list of physicians and providers in the Parkland Community Health Plan network. You can also call our Member Services department at 1-888-814-2352 for assistance.
PCHP makes every effort to provide new members with ID cards as quickly as possible. During the time of enrollment processing, members and providers may verify eligibility through PCHP's secure web portals.
If you need to request a replacement or additional ID card, you may do so through our Member Portal. You may also call Member Services at 1-888-814-2352.
To learn more about your ID card, click here.
If you go to the doctor's office without your member ID card, you can tell them you're with Parkland Community Health Plan. The doctor's office will call us to verify your information.
You can also view your ID card on our Member Portal. Do your best to bring your card with you to every appointment.
You can access your secure Member Portal by using the Member Login link. This is a secure web portal where you can request an ID card, ask to change your PCP, file a complaint, or ask a question.
One of our main goals is to help you stay as healthy as possible. The HRA is one way we do this. It's a series of easy questions about your health and lifestyle.

Filling out the HRA is easy and should take less than 15 minutes to complete.

Log into your Member Portal and complete the "Children and Adults Health Survey" or "Pregnant Moms Health Survey".
If you need help with a problem or have a complaint, please call our Member Services at 1-888-814-2352. You can also send a written complaint, or a Member Services advocate can write down your complaint for you.
Parkland Community Health Plan
Attention: Member Advocate
P. O. Box 560347
Dallas, TX 75356
For more information on the process, timeframes, and next steps, visit our Complaints & Appeals page.
What is prior authorization?

Under medical and prescription drug plans, certain medications may need approval from your health insurance carrier before they're covered.

What types of medications typically need approval?
Those that:
May be unsafe when combined with other medications
Have lower-cost, equally effective alternatives available
Should only be used for certain health conditions
Are often misused or abused
Are often used for cosmetic purposes
Medications that require approval will only be covered by your plan if your doctor requests and receives approval from your health insurance company.
What's the difference between prior authorization and pre-authorization?

None; these terms mean the same thing and are used interchangeably. However, most insurance companies will use the term "prior authorization" instead of "pre-authorization."
How does the prior authorization process work?

Prior authorizations for prescription drugs are handled by your doctor's office and your health insurance company. Your insurance company will contact you with the results to let you know if your drug coverage has been approved or denied, or if they need more information.

If you are unhappy with your prior authorization decision, you or your doctor can ask for a review of the decision, or, your doctor may prescribe a different but equally effective medication. In some instances, your health insurance company may recommend you try an alternative medication that's less costly, but equally effective, before the medication your doctor originally prescribed can be approved.

Learn more at Providers Prior Authorizations
PCHP now offers telehealth services at no cost for all HEALTHfirst and KIDSfirst members age 0-21. This includes easy, convenient access to pediatricians through a partnership with telehealth provider KidzDocNow. Members can talk to a provider from 7am to 11pm, seven days a week.
Telehealth is great for:
Upset stomach and other digestive issues
Cold and flu symptoms
Prescription refills
Questions about nutrition and exercise
Questions about newborn health or breastfeeding
Mental health concerns
To use telehealth services, visit KidzDocNow.com. You can also download the free mobile app for Android or iOS devices (search for "KidzDocNow" in the Google Play or Apple App store).