Get Important Medicaid Updates through YourTexasBenefits.com
September 1, 2022
Attention, PCHP members! If you have a HEALTHfirst (STAR Medicaid) or KIDSfirst (CHIP) plan, it's important to make sure that Texas Health & Human Services (HHSC) has your current contact information on file. If the information is not current, you will miss important updates regarding the expiration of your healthcare coverage.
The best way to give them your current information is with a Your Texas Benefits (YTB) account – it's easy to use and only takes a few minutes to set up. With your YTB account, you can:
Update your personal contact information
Check the status of your application or renewal
Report changes and upload documents
Manage your case
View your Lone Star Card balance
Print a Medicaid card
The good news is that it only takes a few minutes to get started!
Go to YourTexasBenefits.com or download the Your Texas Benefits app from the Google Play or iTunes App store.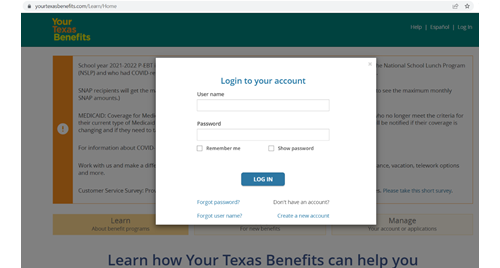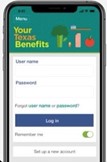 Log in to YourTexasBenefits.com. If you don't have an account, it only takes a few minutes to create one.
Set up your account. You'll need to provide some basic personal information including your name, date of birth, address, and phone number.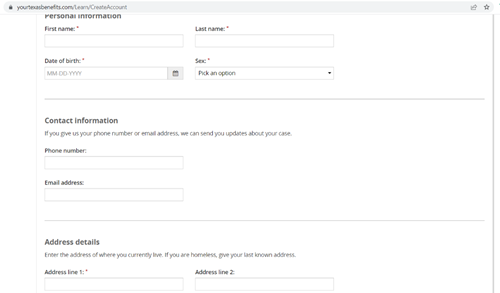 Add optional information. Next, you'll be asked to provide your Social Security number (which will be used to confirm your identity). It's also helpful – but not required – to provide information about your case number, EDG (Eligibility Determination Group), and Medicaid ID number.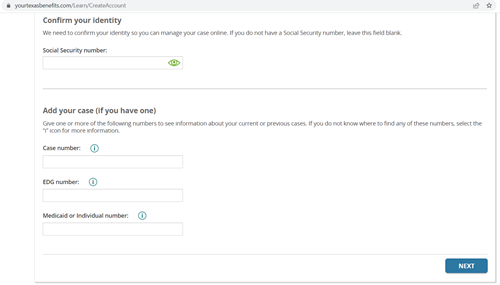 Report changes to your account. All members are required to report any changes within 10 days of a change taking place. This includes changes to your contact information, job status, income, and number of people in your household.
To make changes:
Log in to YourTexasBenefits.com
Select the case number you need to change
Select "Details"
Select "Open Change Report"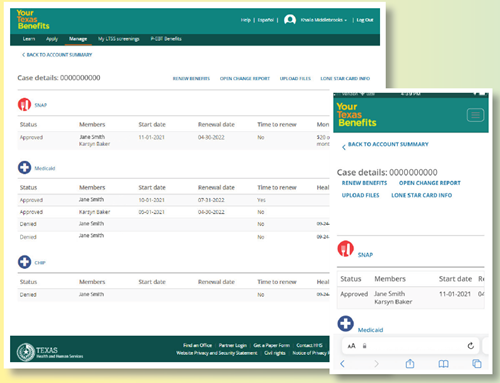 You may also opt to receive paperless communication from the state. Choosing this option helps speed up your communications with HHSC and eliminates the need to keep track of paperwork. You can also sign up to get text or email alerts when a new letter or form is posted to your online account. Check your YTB account settings for more information.
Prefer to have a paper option? You can download a printed form or call 2-1-1 and select Option 2 for assistance.
093_03_20220822_001MC