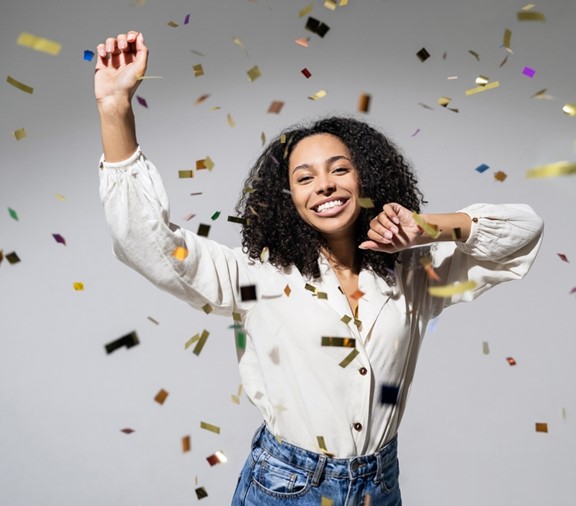 Three Easier New Year's Resolutions for 2023
December 29, 2022

A new year is beginning. It's a great time to begin a new health habit—or begin again!
When you make a New Year's resolution, go easy on yourself. Set a goal that is small enough to stick to every day. Over time, small steps add up to big results.
Here are three resolutions to consider for 2023, and some ways to make them easier to achieve.
Drink more water
Drinking more water is one of the cheapest and easiest ways to boost your health.
How can you know if you drink enough water? According to the National Kidney Foundation, your urine should be light yellow or have no color. They also note that most healthy adults will produce about six cups of urine a day.
Sneak water into your routine by:
Adding a glass of water to one meal a day
Using a small glass that you'll empty more quickly
Skipping ice cubes—cool but not ice-cold water is easier to drink
Read more water-friendly tips here.
Get more sleep
It can be easy to stay up past your bedtime. Some days, the demands of family, housework, jobs, and school mean you need more hours to get everything done.
However, when you get restful sleep at night, you will have more energy the next day. That means better focus and stamina to tackle your "to do" list.
Better sleep can also help you improve your mental health.
Try these tips for better sleep:
Stop reading and watching screens at least 30 minutes before getting into bed.
Set a nightly "wind down" alarm. When it rings, start your bedtime routine.
Finish all caffeinated drinks before noon or earlier.
Wash your hands
Flus, colds, COVID, and other illnesses can send you to bed for days. When your symptoms are severe, these viruses and infections can even send you to the hospital.
The easiest way to fight back? Wash your hands!
Wash up for at least 20 seconds:
After you blow your nose or cough
Before and after handling food
When taking care of someone who is sick
After using the bathroom
When changing a diaper
After touching your pet's food or waste
Use soap and water. Suds up your palms, the backs of your hands, your fingers and fingernails. Rinse under running water.
Carry a small bottle of hand sanitizer for times when you cannot use a sink.
One final tip: Keep unwashed hands away from your eyes, nose, and mouth. That's a common way for germs—and illness—to spread.
Have a healthy, happy New Year! 
---
 Get help with healthy food for you and your family
Women, Infants and Children (WIC) Benefits
Pregnant women and mothers of babies and young children can get help with groceries from the Texas Special Supplemental Nutrition Program for Women, Infants and Children (WIC).
The WIC program can also help you learn about nutrition and how to plan meals.
To learn more or apply, click here.
SNAP Food Benefits
Another helpful resource for Texas families is the Supplemental Nutrition Assistance Program, also known as SNAP.
When you get SNAP food benefits, you shop using a Lone Star Card. Use this card like a credit card at any store that accepts SNAP.
You must be a Texas resident and apply in the county where you live.
When you apply, you'll need to answer questions about:
Your Social Security number and birth date
Your citizenship or immigration status
The money you make from jobs and other sources
The value of your car and other property you may own
The costs you pay for bills
Click here to learn more or apply for SNAP food benefits.