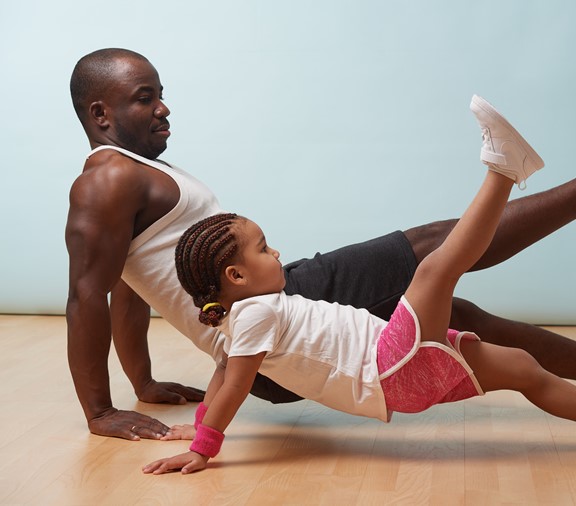 10 Easy Home Exercises Parents Can Do With Kids
June 7, 2021
You're ready to exercise—and so are the kids. But it's too hot, too rainy, too dark, or just not the right time to go outdoors.
No problem! The whole family can have fun with the easy at-home exercise ideas listed here.
Whether you have just 10 minutes or an hour or more, it all adds up. Every little bit of movement helps to build a healthier body, whether you're a child or an adult.
Dance
Dancing is a fun way to burn energy and calories. Clear a space to make a "dance floor" and turn on your favorite music.
You can find free kid-friendly tunes on the KIDZ BOP YouTube channel.
Click here to watch the videos and dance along.
Try a YouTube workout
Need some inspiration for stretching, cardio, muscle-building, and other workout routines? Search for free workouts on YouTube.
You'll find something fun for all ages, including Kids Heart Challenge workouts provided by the American Heart Association.
Follow the leader
This game lets you exercise your creativity as well as your body.
Have everyone take turns being the leader. March down the hall with your feet lifted high, then turn and shuffle back to the starting point. Flap your arms like a bird and crawl across the floor like a crab. Hop in place, then stretch on tiptoe. Then let someone else be the leader while you follow. 
Build an obstacle course
Step on and off the bottom step. Scatter seat cushions on the floor and jump from one to the other. Walk backwards around the table, then crawl underneath. Use what you already own, including the furniture, to make a kid-safe obstacle course.
Track your steps
Make it a guessing game: How many steps do you walk from the front door to the kitchen? Or if you walk up and down the hall five times? Whoever guesses closest to the actual number wins.
Use a phone app or a pedometer to track steps, or count them out loud as you go.
Musical chairs
You will need music that stops at random times to play this fun active game. Click here for a free YouTube version.
Arrange chairs in a line or circle. If you have five players, use four chairs. If you have four players, use three, and so on. Start the music and lead the players around the chairs. When the music stops, everyone should immediately sit in a chair. The person without a seat loses the round.
Keep playing!
Squats
Have everyone get used to working on specific areas of the body. To strengthen abdominal muscles, try squats. Click here for a helpful demonstration.
Try some push-ups
Oof! Push-ups can be tough. However, they're a great way to build arm strength. Click here to see easy-to-follow instructions.
Try a wall sit
Everyone in the family can do the wall sit—but how long can you hold the position? This exercise is challenging work for the upper legs. Learn how to do the wall sit here.
Jumping jacks
Last but not least, try some jumping jacks. They're easy, fun and a great way to get the blood pumping.
Click here to see a demonstration of a jumping jack.
Keep going forward on the path to physical fitness—join the Step-Up Challenge!
Earn 300 points ($30 value) in Parkland Rewards for successfully completing the challenge.