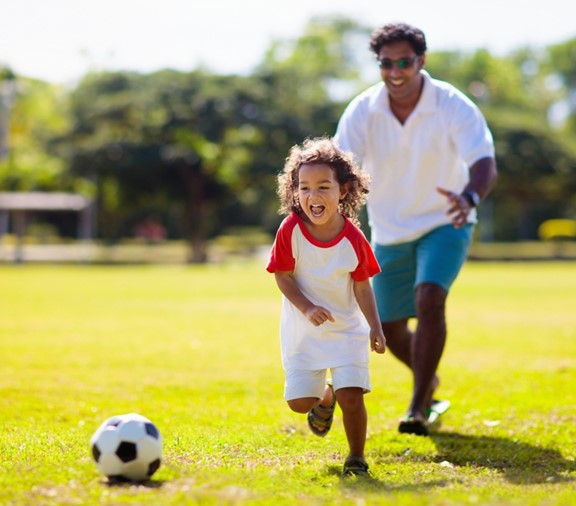 Family Fitness in Five Minutes a Day
August 22, 2022
Exercise is fun—and it's good for everyone in the family. It's especially good for growing bodies.
Children and teens who are active can enjoy:
better sleep
better mood
better grades
How much activity is best? According to the Office of Disease Prevention and Health Promotion, children and teens should aim for an hour of exercise every day.
Can't squeeze that much into your busy life? The good news is that every minute of activity counts.
Set an easy goal to start. Add just five minutes of exercise a day to your family's routine. Build in more short sessions over weeks and months.
Be sure to join in the fun to set a good example. Remember, when you work toward a fitness goal with your children and teens, you get the health benefits too.
Ready to get moving? Start by reading these quick tips.
Wear what you've got.
Workout clothes are whatever you are wearing right now. Pull on some shoes, hand the sunscreen to your children and take a family walk. It's fun to wear special fitness tops or bottoms but, for most activities, you don't need special gear.
Pushing a stroller? Pick up the pace. 
Taking your baby or toddler for a spin around the block is a great way to get exercise and fresh air. Push yourself while you push the stroller. Try a route with hills and walk faster than your normal pace.
Start—or end—the day with a stretch.
Flexibility is an important part of fitness. Wake your children with a five-minute deep stretching session. Lead another relaxing head-to-toe stretch at bedtime.
Dance during screen time.
Watching TV? Playing video games? Using the computer? Every 30 minutes, get up and dance to one or two songs. Let your children choose their favorite music. It's easy to get distracted by screens, so set an alarm to remind yourself—and them.
Do active chores.
Everyone in the family can increase exercise with "active chores." Good examples are carrying one laundry basket, unloading the dishwasher, and sweeping the floor. Have toys, clothes, and books to put away? Do a five-minute clutter cleanup. Set the alarm and see who can get the most done before the timer rings.
These are just a few ways to work toward better family fitness—in just five minutes a day. Every small effort adds up to a healthier routine.
Join the Step-Up Challenge!
Keep going forward on the path to physical fitness. Track your steps as a family and meet the daily walking goals for three weeks to win the Step-Up Challenge.
Earn $30 in Parkland Rewards for successfully completing the challenge.
You'll also receive a FREE pedometer when you sign up for the Step-Up Challenge.