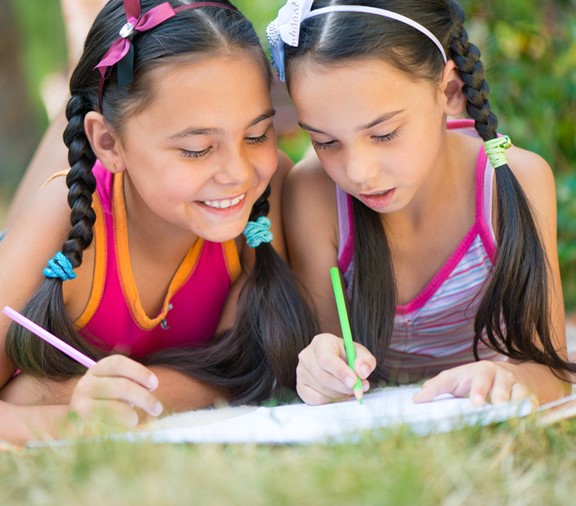 Keep Your Child's Brain Active During Summer Fun
July 25, 2022
School starts in August—but there's still plenty of summer left!
That means it's the perfect time for the whole family to relax with a good book or fun learning activity.
In fact, when you encourage your child to read, learn and explore during summer break, you help them start the school year stronger.
Are you looking for no-cost or low-cost educational activities in Dallas and nearby counties? You're in luck. Families in North Texas have many resources for in-person and online learning.
Just a few local resources include:
Dallas City of Learning 

Dallas City of Learning is an easy-to-use website that helps you to find hundreds of programs, events, and do-it-yourself challenges that match your child's interests.
Your child can learn how to:

create a comic book.
play an instrument.
make a bookmark.
play chess.
research space flight.
learn about basic money management.

Complete activities online or in-person at museums, parks, libraries, rec centers, and more.
Programs are geared to students ages 5-18, but participation is open to anyone 18 or younger.
Learn more at dallascityoflearning.org.
Collin County Library Reading Programs

Collin County library summer reading programs are underway. Young readers can win great prizes. Click this link to find the library reading program closest to you.
Plan ahead for more learning. Check out your community library's programs for August and September. Many libraries hold free interactive story times, therapy dog reading programs, and other fun activities for children of all ages.
Dallas Library Summer Reading Program

Families in Dallas County can participate in the popular Smart Summer reading program.
Here's how it works: Students age 18 and younger who read, or are read to, at least 20 minutes a day earn a free book for every 10 days of reading, up to five times through August 14. 
For details, visit the Dallas Public Library website.
YMCA

You might know the YMCA offers fitness classes and facilities. However, that's just the beginning!
The YMCA of Metropolitan Dallas offers programs and events throughout Collin, Dallas, Denton, Ellis, Palo Pinto, and Rockwall counties.
Just a few of the hundreds of learning activities for all ages include:

Mobile Tech Hub, an interactive STEM lab and gaming truck.
Babysitting Safety classes.
Big Brothers, Big Sisters programs.
CPR and First Aid certification.
Get Up and Go, a 10-week weight management education program for children and their parents.

Many programs are offered at no cost.
Financial assistance is available. Visit the YMCA website to learn more.
Need a healthcare provider?
Check out the Parkland Community Health Plan Provider Directory.
You'll find information on all of the doctors in our network, including those who:
are accepting new patients.
have later office hours.
speak languages other than English.