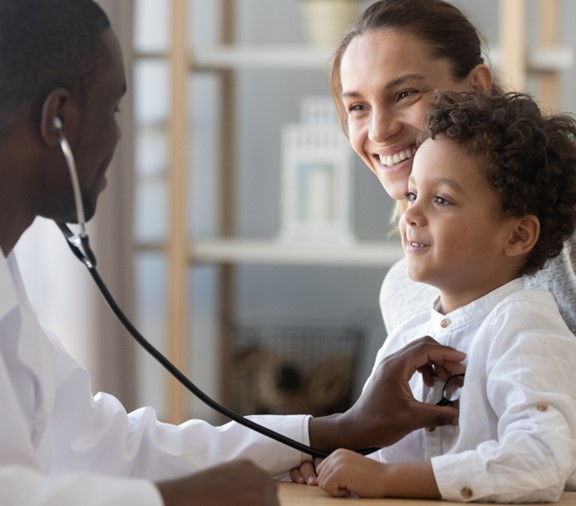 Plan Now for Back to School Health Checkups, Vaccines—and More
July 5, 2022
Moms and Dads—it's time to get your child ready for back to school.
Whether that means daycare, preschool, or K-12, Parkland HEALTHfirst (STAR Medicaid) and KIDSfirst (CHIP) can help!
Your HEALTHfirst or KIDSfirst coverage offers:
well-child checkups
vaccines
sports physical exams
vision exams and eyeglasses
dental checkups
ADHD & behavioral health
hearing tests and hearing aids
Well-Child Checkups
Babies and toddlers should see the doctor several times a year.
After age three, most children will need a checkup only once a year. Summer is the perfect time to schedule their yearly exam.
During a well-child checkup, the doctor will:
give an overall physical exam
measure weight and height
ask about any concerns
give vaccines (shots) if needed
give other important tests and services
refer your child for diagnosis and treatment, if necessary
If you are a member of Parkland HEALTHfirst or KIDSfirst, there is no cost to you for your child's checkup.
Vaccines (Shots)
If your child attends daycare or school, they will need to be up to date on their vaccines.
Vaccines help to protect your child from serious health problems.
Your doctor will give vaccines to your child during their well-child exam, if needed. Be sure to bring your child's vaccine record to every doctor's visit.
Sports Physical Exams
Does your son or daughter play a school sport, such as soccer, basketball, or volleyball?
Many leagues or school teams require the players to have health insurance. They also require players to get a sports physical exam. This is different than a well-child checkup.
If your child (age 3 to 19) is enrolled in HEALTHfirst or KIDSfirst, they can get one sports physical exam per school year as part of the plan's value-added services. There is no cost to you or your child. *Limitations and restrictions may apply.
Vision Exams and Eyeglasses
Good vision is important everywhere, but especially in the classroom. Schedule a vision checkup before school starts. This will help you to make sure your child can see close up and far away without any problems.
HEALTHfirst and KIDSfirst insurance includes:
an eye exam and prescription eyeglasses once every 12 months
more services if your child's vision changes
Your child can get a $100 allowance every two years for frames as part of your plan's value-added services. *Limitations and restrictions may apply.
Ready to find an eye doctor and eyeglass store in the Parkland HEALTHfirst or KIDSfirst plan network?
Call Avēsis at 1-866-678-7113 or go to their website.
Dental Checkups
Your child's HEALTHfirst or KIDSfirst plan covers visits to the dentist every six months. You should start taking your child to the dentist when they are six months old.
Regular checkups help to prevent tooth decay. These exams also let the dentist fix any small problems before they get bigger.
Do you need to find a dentist near you?
Or do you have questions about HEALTHfirst or KIDSfirst dental coverage?
Call your child's dental provider:
ADHD & Behavioral Health Management
In the classroom, children are expected to focus on their work—and their teachers.
Does your child have trouble following instructions or paying attention when someone is speaking? If so, you might wonder if they have attention deficit disorder (ADD) or attention deficit hyperactivity disorder (ADHD). There are several tests your doctor can order to check your child's overall health and potential ADD/ADHD symptoms.
To learn more or schedule a test, talk to your doctor. If diagnosed, PCHP members can earn rewards by managing their ADHD.
PCHP also has a behavioral health program, with help for problems like depression or substance abuse. Contact Carelon Behavioral Health to learn more:
English/Spanish interpreter services available 24 hours/day, 7 days/week.
Hearing Tests & Hearing Aids
School-age hearing tests are an important way to identify childhood hearing loss that wasn't detected at birth.
A hearing screening is a quick test that your child will pass or fail. If they pass, then they show no signs of hearing loss. If they fail, they will need more in-depth hearing testing. You should see someone trained to do hearing screenings, like an audiologist, nurse, or teacher.
A hearing evaluation, also called an audiologic evaluation, is a complete hearing test. You should see an audiologist for a hearing evaluation.
Have questions about how HEALTHfirst or KIDSfirst can help with back-to-school checkups?
Call Member Services:
HEALTHfirst STAR Medicaid: 1-888-672-2277
KIDSfirst CHIP/CHIP Perinate: 1-888-814-2352
(TTY 7-1-1)
8 am - 5 pm CST, Monday - Friday (except state holidays)
093_03_20220701_002MC