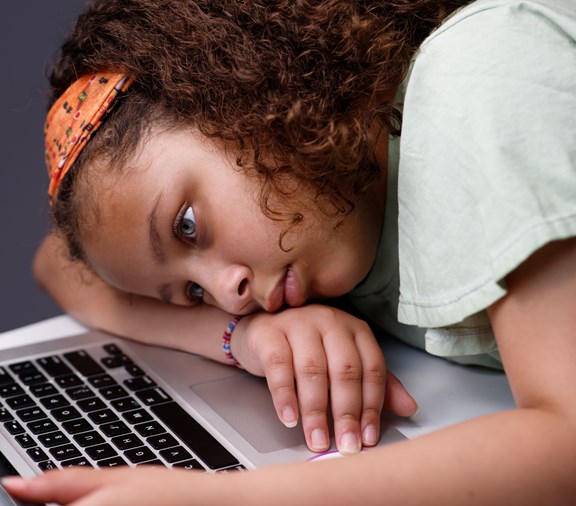 How to Balance Screen Time and Non-Screen Time
August 15, 2022
Do your children spend many hours a day reading or watching screens? If so, they're not alone.
Screen time can include viewing computers, tablets, TVs, games, and phones. Children use them for entertainment, education, and socializing. These activities can be a healthy way to spend time.
When does screen time become unhealthy? When your child spends too many hours on their favorite devices.
According to the American Academy of Child and Adolescent Psychiatry (AACAP), too much screen time may lead to:
Poor sleep
Lower grades
Mood problems
Obesity
Less time with family and friends
Not enough outdoor or physical activity
Screen-Time Limits Based on Age
Ready to make a screen-time plan for your child? The earlier you start, the better.
Use these guidelines from the AACAP:
Newborn to 18 months of age

Limit their screen use to video chatting with an adult, such as talking to relatives on the phone or computer screen.

18 to 24 months

Limit your toddler's TV or other screen time to watching educational programming with you or another caregiver.

2 to 5 years

Add up to one hour of non-educational screen time per weekday.
On weekend days, add up to three hours of non-educational screen use.

6 years and older

Encourage your child to learn, play, relax, and socialize away from screens as much as possible.
Tips for Limiting Screen Time
If you have tried to limit your child's TV, computer, or phone time, you know it can be challenging. Remember, every bit helps.
If you cannot get them to cut their screen time by an hour, work on a daily reduction of 15-30 minutes. It all adds up!
Try these tips:
Make clear rules about screen use.
Tell your child how many minutes they have each day for using devices. Set a timer or alarm and give them a 10-minute warning so they can wrap up their activity.
Aim for short screen-time sessions.
Encourage your child to watch TV or play video games in 30- or 45-minute sessions instead of one or two hours. Try to cut 10 minutes a day for one week, then 15 minutes a day for two weeks, and so on. Slowly build new habits.
Make physical activity part of your child's day.
Take a walk after dinner with no phones. Take your child to the playground or, if you can, the pool. The more time walking, running, and exercising, the better.
Encourage hobbies and extracurricular activities.
Support your child's interest in sports, reading, or creative hobbies. Encourage them to play an instrument, draw, write songs, cook, bake, style hair, or learn about a favorite topic.
Avoid screen time before bed.
Your child needs quality sleep—and blue screens make it harder to fall asleep. Keep phones, tablets, and TVs out of bedrooms, and turn off devices at least 30 minutes before bedtime.
Complete your annual health risk assessment—earn $20 in Parkland rewards!
As a Parkland Community Health Plan member, you can earn reward points for completing certain wellness activities. Then, you can spend those points on items in the Rewards Catalog.
Want to earn $20 in reward points?
Simply complete a yearly Health Risk Assessment on the Member Portal. You will receive your reward points in approximately three months.
Call to learn more about the Health Risk Assessment reward:
Parkland HEALTHfirst (STAR Medicaid): 1-888-672-2277
Parkland KIDSfirst (CHIP/CHIP Perinate): 1-888-814-2352
TTY: 1-800-735-2989