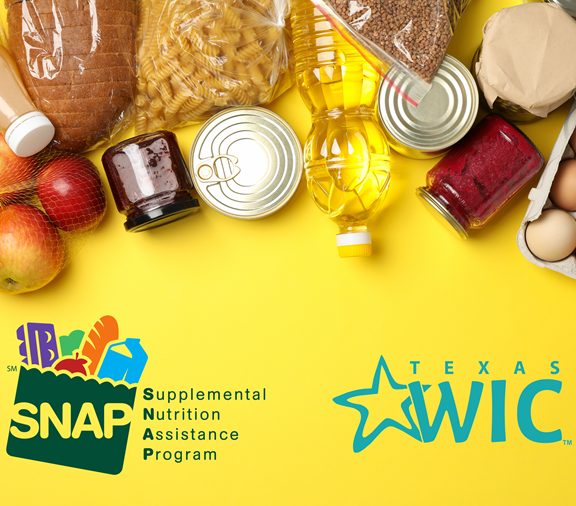 Healthy Food Isn't Out of Reach
June 1, 2021
You may be receiving Medicaid benefits through the State of Texas. But did you know that you can also get help buying healthy food when you need it?
"Food insecurity" describes what happens when someone is not able to get enough affordable, nutritious food. Families may worry that they will run out of food or won't be able to afford a balanced meal. They may skip meals or eat less than they feel they should.
SNAP Benefits
For many, it can be hard to pay for rent, utilities, transportation, and childcare – and still have money left for healthy meals. If you need help affording healthy food, you can apply for the Supplemental Nutrition Assistance Program (SNAP). To qualify, you must be a Texas resident and apply in the county where you live. Click here to learn more or apply. (Note: this is the same place where you apply for Medicaid benefits.)
SNAP benefits are added to the Lone Star Card, which can be used like a credit card at any store where it's accepted. SNAP funds can't be used to buy tobacco, alcohol, medicine, or other non-food items.
When you apply for SNAP benefits, you'll need to answer questions about
Your Social Security number and birth date.
Your citizenship or immigration status.
The money you make from jobs and other sources.
The value of your car and other property you may own.
The costs you pay for bills.
Over this last year, SNAP recipients have been able to get extra benefits. The SNAP program is also testing a program where you can buy food online from certain grocery stores.
WIC Benefits
The Texas Special Supplemental Nutrition Program for Women, Infants, and Children (WIC) is another program that helps pregnant women, new mothers, and young children eat well. It also teaches food nutrition. To learn more or apply, click here.
Local Food Banks
Food banks are another good place to find healthy food options. The North Texas Food Bank has several programs to address food insecurity and may be able to supply some of the food that is not covered by your budget. Click here to learn more.
In Dallas County, PCHP partners with The People's Fridge. This program provides free food to local neighborhoods. PCHP also sponsors food distribution events across North Texas. Check out our calendar to learn about upcoming events.
093_03_20210601_002MC