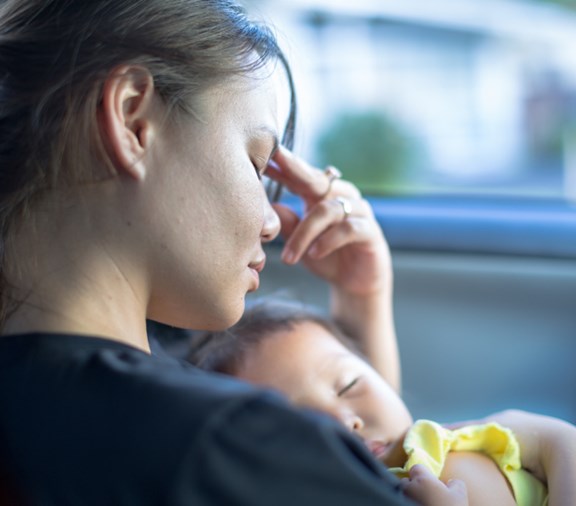 Have the Spring Blues? These Tips Can Help
April 7, 2021
The COVID-19 pandemic has been hard in many ways. Being separated from friends and family can be the hardest part of all.
As more and more people get the COVID-19 vaccine, businesses, parks, sports venues, stores and restaurants will open. Public spaces will slowly go "back to normal."
Even though that change is positive, it can be stressful too—especially if you have the "spring blues."
Self-care is important, and the tips below can help. They are simple, but they are not always easy to do.
Remember, even small changes can make a big difference over time.
Keep your regular routine. 
When the outside world is unpredictable, try to keep the inside world on a schedule. That means going to bed and waking up at the same time every day. If you can, schedule a "deep breathing" break in the morning or in the evening. Having a weekly plan for chores, such as laundry, grocery shopping and paying bills, can also help you to feel more in control.
Limit exposure to news media. 
Need more peace in the house? Turn off the news on your TV, phone or radio. Choose music instead, or a funny or educational video.
You can also try turning off all devices and enjoying the silence. Have kids? Try this after they're in bed. You may be surprised at how calming a quiet room can be.
Spend more time outdoors.
Walking outdoors, where you can see trees and other natural  sights, is proven to boost mental health.
The American Psychological Association notes that spending even two hours a week outdoors helps people to improve attention, lowers their stress levels and puts them in a better mood.
No time for a walk today? Open the window or sit on the porch. Even listening to the sounds of nature, such as birds singing or crickets chirping, can help you to feel better.
Try the "fruit first" trick
Sugar tastes good, but it can make you feel bad. Try the "fruit first" trick for one week and notice your mental energy rise.
Here's how it works: Whenever you reach for a candy bar, doughnut or can of soda, eat a piece of fruit first. Choose those you like the most—a few tangerine wedges, a handful of berries, a banana or a green apple.
After you eat the fruit, wait 15 minutes. You might find your craving for sugary treats is gone, or easier to ignore. Every bit helps! 
Drink more water
As the spring days and nights get warmer, you need more water to energize your body—and mind.
Water helps your body to stay cool and to digest food properly. If you don't drink enough, you can feel nauseated, develop headaches and muscle cramps, and feel extra-tired.
Want to sneak in an extra glass or too every day? Try drinking water without ice cubes. For some, it's easier to "chug" water that is not ice cold.
Say hello
The COVID-19 lockdown has made it hard for people to spend time together. Many have lost touch with old friends, family members, coworkers and neighbors.
Is there someone you miss? Send them a friendly email or text message. Better yet, if you have some free time, call them to say hello.
Connecting with others can be one of the best ways to boost your mood.
In addition, they may be very happy to hear your voice. After all, your loved one may have a case of the "spring blues" too.
Are you feeling the blues? We can help.
Parkland Community Health Plan has partnered with Carelon Behavioral Health to manage in-network mental health benefits.
Click here to learn more, or call 1-800-945-4644 24 hours a day, 7 days a week.