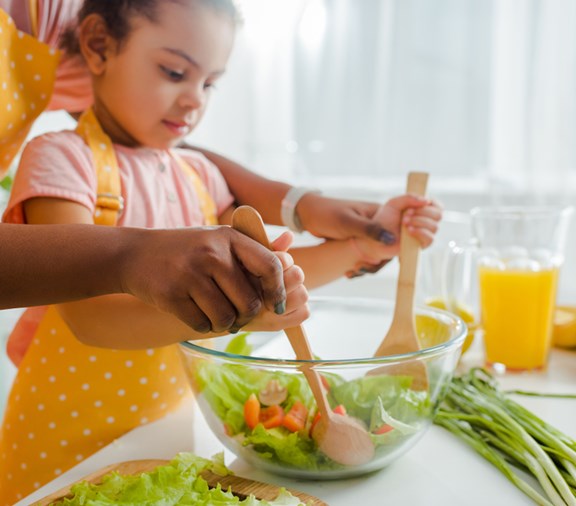 Easy Ways to Eat More Greens
March 14, 2022
In March, we celebrate both National Nutrition Month® and St. Patrick's Day. That makes it the perfect month to focus on green foods.
Call them veggies. Call them "salad fixins."
Whatever you call them, leafy greens and vegetables help people of all ages to grow and stay strong and healthy.
What are the health benefits of green foods?
Vegetables and leafy greens taste great. They are low-cost, especially in the spring and summer.
Best of all, these foods have several health benefits:
Low in calories, which helps you to maintain or lose weight
A lot of nutrition per calorie compared to chips or sweets
Many are high in fiber, so you feel fuller on less food and fewer calories
They offer a variety of textures and flavors—from crunchy to chewy to meaty
You can eat them raw. Just wash, chop, and go!
A few green foods to try
When you think about eating more greens, do you picture yourself eating iceberg lettuce with a few tomato slices?
Your children might like potatoes served as French fries or tator tots. Do they like green foods, too?
It might be time to experiment with new items.
This spring and summer, try a different green food each week. Look for sales and visit farmers' markets. Start small—every little bit adds up!
Here are a few to consider.
Leafy greens
Arugula and watercress have a peppery flavor.
Like a bit of "heat?" Try chicory or escarole.
Boston, bibb, and romaine lettuce are crunchy and mild-flavored.
Instead of iceberg lettuce, try spinach or kale on your sandwich.
Try adding add fresh—or frozen—greens to:
Soups
Stews
Stir-fried rice
Steamed vegetables
Omelets
Hungry? Reach for one of these good snacking vegetables:
Green bell pepper strips (red, yellow, and orange are also tasty)
Celery (try it with peanut butter)
Cucumber slices
Asparagus
Green beans
Sugar snap peas
Broccoli
Avocados—add a spoonful or slice to salads and sandwiches
Learn more about the health benefits of vegetables and more great nutrition tips at MyPlate.gov, a service of the U.S. Department of Agriculture.
Have health questions or concerns?
Call the free 24-Hour Nurse Line.
Have an urgent question about your child's behavior or other concern?
Call the 24-Hour Nurse Line. There is no cost to you for this Parkland Community Health Plan service.