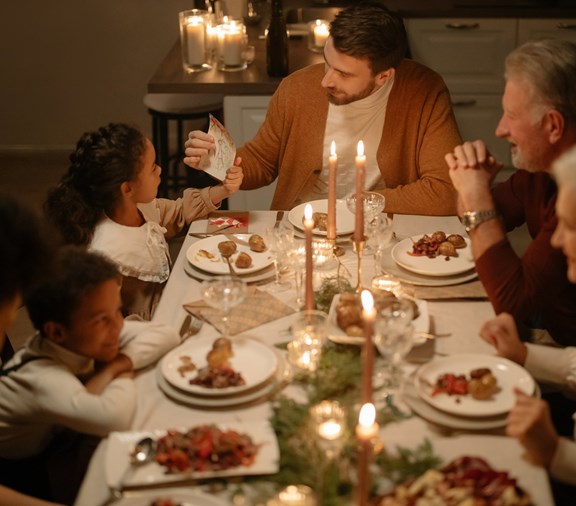 Free Holiday Meals and Other Food Resources
November 3, 2023

Thanksgiving is right around the corner. If you need help with holiday meals this year, you're in luck.
Many North Texas communities offer free Thanksgiving meals—and other food—before, on, or after the holiday.
Check out the list below to find resources near you.
Operation Turkey
Each year, Operation Turkey volunteers cook, prepare, pack, and deliver hot meals to numerous Texas communities.
Each Thanksgiving meal includes turkey, stuffing, vegetables, pie, and a drink.
Volunteer teams will deliver meals between 10 am and 2 pm on Thanksgiving Day —Thursday, Nov. 23, 2023.
To check to see if Operation Turkey serves your zip code, and to request a meal for everyone in your household, fill out the request form at:
https://www.operationturkey.com/meal-request-2023/
Dallas and Fort Worth Feast of Sharing
Bring the whole family to celebrate Thanksgiving at the Central Market/H-E-B Feast of Sharing in Dallas and Fort Worth.
This free community event includes a holiday meal, a visit from Santa, live entertainment, a kid's zone, and information about health and wellness.
Free transportation is available from various locations. For details, visit the Feast of Sharing website.
Fort Worth Feast of Sharing
Wednesday, Nov. 8, 2023
3 to 7 pm
Dickies Arena
1911 Montgomery St, Fort Worth, TX 76107
Dallas Feast of Sharing
Saturday, Nov. 11, 2023
11 am to 3 pm
Fair Park - Automobile Building
1010 1st Ave, Dallas, TX 75210
Feed Our Community Thanksgiving Dinner
The Inspired To Live Church in Arlington invites you and your family to a Feed Our Community Thanksgiving Dinner.
The event time and location are:
Wednesday, Nov. 22
6 to 8 pm
2455 Ascension Blvd
Arlington, TX 76006
You must register in advance at the Inspired To Live Church website:
inspiredtolive.simplechurchcrm.com/external/form/a314e2f7-69eb-4834-aede-db31890a6342
Free "No One Eats Alone" Thanksgiving dinner
Looking for a Thanksgiving meal near Flower Mound?
Underdogs restaurant will host a free "No One Eats Alone" hot meal consisting of turkey, ham, mashed potatoes, stuffing, green beans, gravy and a roll.
Plan now to attend on:
Thursday, Nov. 23
11 am to 3 pm
Underdogs
4106 River Walk Dr
Flower Mound, TX 75028
There is no charge for the event, but there is a charge for drinks.
You must register in advance.
Visit Opentable.com and reserve your seat at Underdogs Burgers & Brews.
Findhelp
You can find more resources for food and groceries using Findhelp.
It's convenient and easy to use. You don't need to log in or sign up before using the site.
Simply visit the Findhelp website and enter your zip code.
You'll see a list of agencies that offer help with food—both emergency and ongoing assistance.
Resources include help with:
getting emergency food, such as free fresh fruit, vegetables, canned goods and more
signing up for food delivery
getting meals
paying for groceries
learning about government food benefits
shopping for free groceries
For every organization, the Findhelp directory lists the:
address
phone number
hours of operation
type of food help they provide
website
how to apply, if necessary
how to schedule a visit
other information you may need
Click here to use the Findhelp directory. Click on the word "food" under the apple icon.
You can also call PCHP Member Services with questions about using Findhelp for emergency food and many other resources:
Women, Infants and Children (WIC) Benefits
Pregnant women and mothers of babies and young children can get help with groceries from the Texas Special Supplemental Nutrition Program for Women, Infants, and Children (WIC). 
The WIC program can also help you learn about nutrition and how to plan meals.
To learn more or apply, click here.
SNAP Food Benefits
Another helpful resource for Texas families is the Supplemental Nutrition Assistance Program, also known as SNAP.
When you get SNAP food benefits, you shop using a Lone Star Card. Use this card like a credit card at any store that accepts SNAP.
You must be a Texas resident and apply in the county where you live.
You'll need to answer questions about:
Your Social Security number and birth date
Your citizenship or immigration status
The money you make from jobs and other sources
The value of your car and other property you may own
The costs you pay for bills
Click here to learn more or apply for SNAP food benefits.