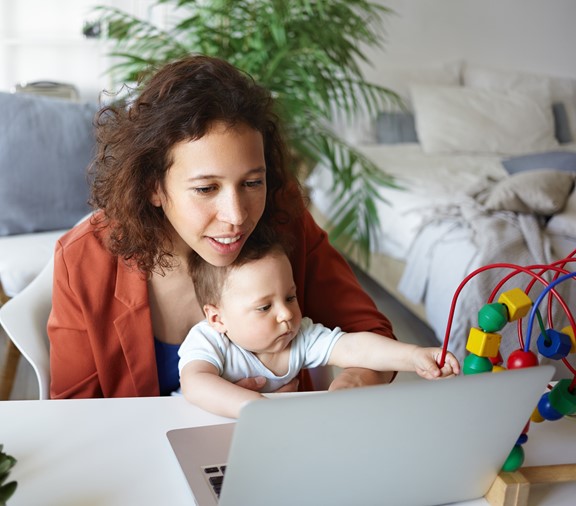 CHIP Renewal FAQs
July 1, 2021
Parkland Community Health Plan wants to help you get and stay well. That's why it's important to know how and when you need to complete your Texas Medicaid or CHIP renewal to ensure continued coverage. Below are some common questions about the renewal process.
Why do I need to renew my CHIP/CHIP Perinate benefits?
In response to the COVID-19 pandemic, the Texas Health and Human Services Commission (HHSC) temporarily waived the renewal requirements for CHIP programs. Member coverage was extended from April 2020 through June 2021. Now, the automatic renewal period is ending for CHIP and CHIP Perinate members.
How will I know if it's time to renew my CHIP benefits?  
When it is time for you to renew, you will get a packet in the mail from HHSC. Look for an envelope marked "time sensitive." You should get the packet about 90 days before your application is due.
To check your renewal status online:
Go to YourTexasBenefits.com.
Log in to your account.
Select "Manage."
Select "Details." If it is time to renew your benefits, there will be a "Yes" in the "Time to Renew" column.
Want to get renewal notices by text or email? Log in to your account on YourTexasBenefits.com and sign up for alerts under "Alert Settings." You will then get a text or email when it is time to renew your benefits.
The chart below shows the current renewal dates for CHIP and CHIP Perinate coverage: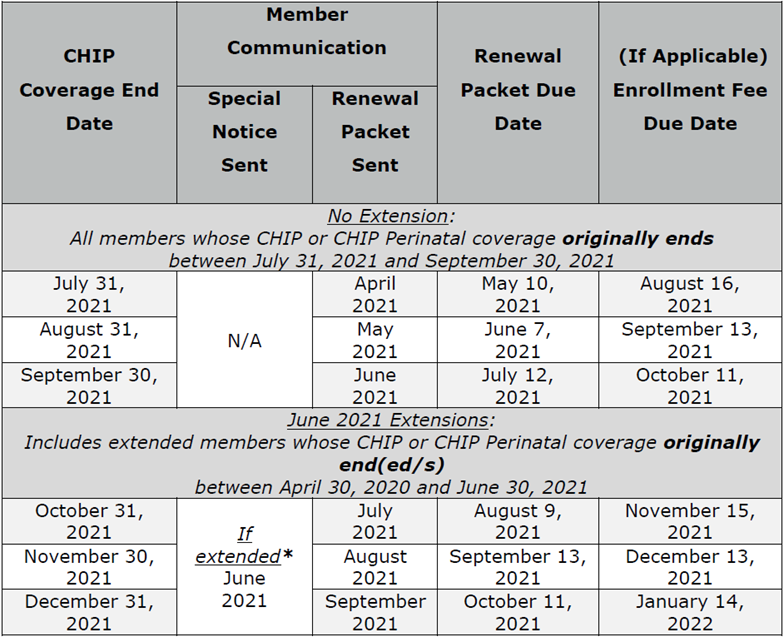 What information will I need to provide?
When you renew your benefits, you will be asked to share information about
Who you are (identity).
Money you get (income).
Costs you pay (expenses).
Things you paid for and own (assets).
If your income or expenses have changed, you will need to provide proof of the change. Examples of proof include:
Copies of paychecks.
Bills you pay.
Benefit award letters.
Bank and other account statements.
If you do not provide all of the requested information, your coverage may be delayed.
Will I need to pay a fee when I renew my CHIP coverage?
Depending on your income, you may have to pay an application fee when you renew. Application fees are $50 or less per family, per year.
How do I renew my benefits online?
Go to YourTexasBenefits.com.
Log in to your account.
Select "Manage."
Select "Details" for the case that you are renewing.
Select "Renew Benefits" on the next page.
How long will my application be saved online?
Your application will be saved for up to 60 days. If you start it but don't finish within 60 days, it will be deleted.
What happens if I don't finish my renewal application by the due date?
If you start the application before the due date, you can still submit it after the due date. However, there may be a delay in getting your benefits. If the due date for renewal has passed, you must submit a new application for benefits.
Can I apply for new benefits when I renew?
Yes – when you renew your health coverage, you will be able to add other benefits.
My information has not changed. Do I need to submit a renewal application?
Yes, you still need to renew. If you do not have any changes, choose the "No Changes" option in each section of the application.
I've moved recently and didn't get a renewal letter. What should I do?
Call 2-1-1 to make sure that HHSC has your current address.
How can I check the status of my application after I submit it?
Log in to YourTexasBenefits.com.
Click "Manage."
Click "Details" for the case you want to check.
Select the "Status" column.
The "Status" column will list one of the following:
Started: You started a renewal but haven't submitted it.
Sent: You submitted the renewal.
In Review: You submitted the renewal, and it's being reviewed.
Reviewed: The renewal has been reviewed.
Cancelled by User: You cancelled the renewal you started.
Cancelled by System: The system cancelled a renewal you started. This can happen if you didn't submit or update your renewal within 60 days. It can also happen if you sent your renewal by mail.
I still have questions about my coverage. Where can I learn more?
Visit Your Texas Benefits or call 2-1-1 Texas to get help with your CHIP/CHIP Perinate renewal.
093_03_20210624_003MC