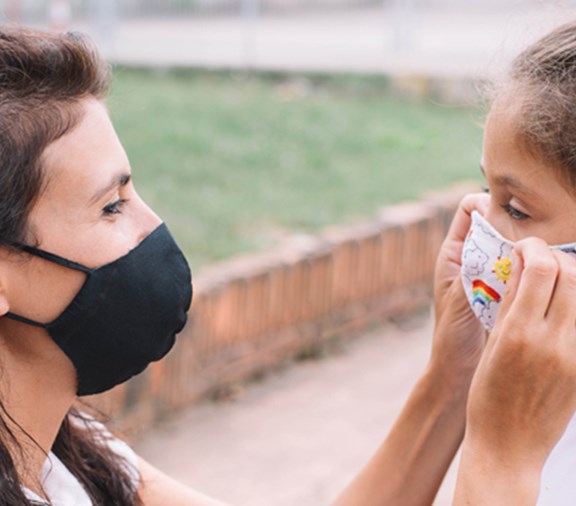 Before the Covid-19 pandemic, managing your child's schooling was easier.
You got them to the bus stop—or the school—on time. You checked their homework. Did they need extra help? If so, you called their teachers to ask about tutors or other services.
The pandemic adds new "to dos" for parents and students.
Should your child go back to school for in-person classes? Should they stay home and "attend" online school? What about sports, clubs and other after-school activities?
Your decisions may change in the weeks and months ahead.
Here are some tips to make school days a little easier and help your family stay healthy—all year long.
What to consider when choosing online learning
Online learning can be the right choice for your family. How can you set your child up for success?
According to Suzette Baez, MD, a pediatrician at Parkland Vickery Health Center in Dallas, the first step is to plan the day.
"Create a schedule for the child to know what time they're going to get up, what time they going to get their breaks, their lunch breaks, their snacks," Dr. Baez says.
Dr. Baez also suggests that parents:
make sure their internet service is reliable
find someone to supervise their child when the parent is not available
set up a workspace with good light and no distractions
help the child practice using the school website and apps
check with the teacher each week about assignments
Choosing in-person learning during the pandemic
Does your child attend school in person? There are several ways you can help to lower their risk of getting—and bringing home—the virus.
First, think about how your child will travel to and from school. If they ride a crowded school bus, try to use another option.
Also, find out the school's safety guidelines and requirements. Explain them to your child and encourage them to follow the rules.
Remind your child to wash their hands. Demonstrate what "thorough" hand-washing looks like. Make sure they understand to wash after using the bathroom, touching handrails or door handles, and coughing or sneezing.
School means friends, sports, singing in groups, clubs and after-school activities. Social distancing is hard, especially as weeks turn to months. Show your child how to stay six feet from others. Practice this important new habit at home.
Most of all, teach your child to wear a face mask or other face covering.
According to Dr. Baez, "It's the most important thing" parents can do to help their child stay safe in the classroom.
Make it a family decision
The most important tip for managing your child's schooling during a pandemic? Don't decide alone.
"My advice to parents who are deciding whether the child will do online learning vs. in-person is that, first, it should be a family decision," Dr. Baez says.
Consider what your child prefers and how they learn.
If you choose online learning, will your child be able to focus for long periods of time at home? If not, in-person school might be a better choice.
Also, think about others in the home. Is anyone at high risk for Covid-19? Does the pediatrician think your child is high-risk?
If so, online learning might be right for your child.
For more information about keeping your family healthy during the pandemic: