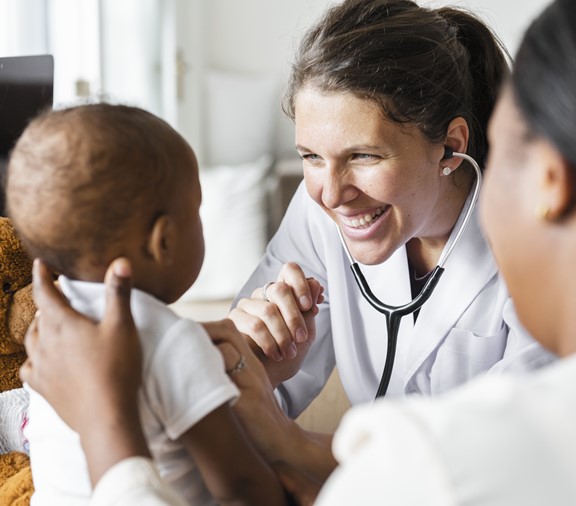 How to Choose a Primary Care Provider
January 24, 2022
Regular doctor visits are important for both kids and adults – and having a primary care provider (PCP) is a great way to stay focused on your health.
What is a Primary Care Provider?
A PCP provides general preventive care to help you stay healthy – they can treat minor health problems and keep them from becoming more serious issues. A PCP is also known as your "medical home" because you'll get most of your health care from them.
You might visit a PCP for an annual well-child exam or adult physical exam. PCPs can perform screening tests for diabetes, asthma, and other conditions. They can also help you stay up to date on common vaccines (shots) for the flu, COVID-19, and other diseases. Does your child need a school physical to play sports? A PCP can take care of that, too. And if you need a more specialized type of care, your PCP can help you find the right doctor for it. (Members with special healthcare needs or chronic conditions can choose a specialist as their PCP, as long as the specialist agrees.)
Why should I have a PCP?
If you visit your doctor regularly for non-emergency care, they will be familiar with your health history and can work with you to keep minor health issues from getting worse. It's better to see your PCP for a minor injury or illness instead of going to the emergency room. Click here for more information on when to visit your PCP and when to visit the ER.
Your PCP is there to work with you and help you create a plan for your good health. It's important to find a doctor who treats you with respect, listens to your concerns, explains things clearly, and takes time to answer your questions.
How should I get started?
Ask a family member, friend, neighbor, or coworker for recommendations – do they have a doctor they go to and like?
You can also do an online search for doctors near you. For example, Parkland Community Health Plan's Provider Directory includes over 9,000 doctors at more than 40 different hospitals and urgent care centers in North Texas.
What questions should I ask when I'm looking for a doctor?
Does the doctor accept your insurance? If they are "out of network," it's possible that there could be a fee associated with your visit.
Does the doctor speak your preferred language?
Is the doctor taking new patients?
Is it easy to get to the doctor's office? If you use the bus or train, is the office on a route that's convenient for you? (Need a ride to the doctor? PCHP may be able to help.)
Do they have appointment times that fit with your schedule? If it's hard for you to visit the doctor during daytime hours, ask if they have evening or weekend appointments. Many doctors also offer telehealth visits, where you can talk to the doctor on video through your phone or computer.
Does the doctor do tests and x-rays at their office, or would you have to go to another location?
How to prepare for your first visit
When you call to make an appointment, be sure to have your insurance card nearby – you may be asked to provide your member number and other information.
Before your visit, make a list of any questions you might have for the doctor. It's also a good idea to bring a list of the medicines you or your child currently take. If you can remember any details about your family medical history, or any medical procedures you've had in the past, it's good to bring that information along and share it with your doctor during the visit.
About the PCHP Provider Directory
Our Provider Directory includes information on all of the doctors in our network. The directory indicates the doctors who are accepting new patients. It also has information on doctors with later hours, and it shows which doctors speak languages other than English.
All PCHP members are required to select a primary care provider when they sign up for a plan. A PCP is usually a Family Practitioner, a General Practitioner, or a Pediatrician. If you are a female, you can pick an OB/GYN as your primary provider. Members can also choose any of the following as their PCP: advanced nurse practitioners (ANPs), Federally Qualified Health Clinics (FQHCs), and Rural Health Clinics (RHCs).
Learn More
Are you a PCHP member? You can choose your PCP, view recent claims, and more by logging in to your Member Portal.
You can also call our Member Services department to tell them who you've picked as your PCP.
HEALTHfirst (STAR Medicaid) 1-888-672-2277
KIDSfirst (CHIP/CHIP Perinate) 1-888-814-2352
Not a member? Parkland Community Health Plan offers insurance for families who qualify for Medicaid (STAR) and CHIP. We also offer health plans for pregnant women. Learn more here.