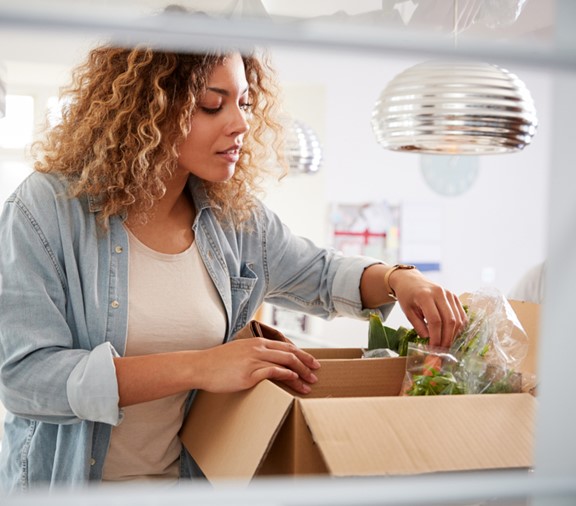 Free Meals—and More!—for Pregnant Members
September 26, 2022
When you're expecting a baby, eating nutritious food is an important way to stay strong and healthy.
If you need some help with your food budget, we have good news. There are many food-related resources available to pregnant women and families in North Texas.
Keep reading to learn about just a few!
Free Meal Service for Parkland Community Health Plan Members
Are you pregnant and a member of HEALTHfirst STAR Medicaid or KIDSfirst CHIP/CHIP Perinate?
If yes, you can receive one free family-style meal each month. Each meal feeds four people and is delivered to your door from Maria's Gourmet Kitchen.
You will receive your first meal when you reach your second trimester of pregnancy. The meal program ends 60 days after the birth of your baby.
To learn more or to sign up, visit www.mgkbox.com.
If you cannot access the signup link, call Member Services:
Other resources for food and groceries:
Findhelp 
Findhelp connects you to local programs and organizations that help with groceries, meals, and much more.
Best of all, Findhelp is free, easy to use, and private. You do not need to log in or sign up for anything.
To get started, visit findhelp.parklandhealthplan.com 
Women, Infants and Children (WIC) Benefits
Pregnant women and mothers of babies and young children can get help with groceries from the Texas Special Supplemental Nutrition Program for Women, Infants and Children (WIC).
The WIC program can also help you learn about nutrition and how to plan meals.
To learn more or apply, click here.
SNAP Food Benefits
Another helpful resource for Texas families is the Supplemental Nutrition Assistance Program, also known as SNAP.
When you get SNAP food benefits, you shop using a Lone Star Card. Use this card like a credit card at any store that accepts SNAP.
You must be a Texas resident and apply in the county where you live.
When you apply, you'll need to answer questions about:
Your Social Security number and birth date
Your citizenship or immigration status
The money you make from jobs and other sources
The value of your car and other property you may own
The costs you pay for bills
Click here to learn more or apply for SNAP food benefits.
Free Rides for HEALTHfirst Members
Need a ride to the grocery store, food bank, or other food-related appointment in the Dallas Service Area?
Parkland Community Health Plan offers nonemergency medical transportation to all HEALTHfirst (STAR Medicaid) members. This is provided at no cost to you, with a limit of one ride per month.
Use Access2Care to set up medical transportation.
To schedule a free ride to and from a food bank or grocery store, you must call 1-833-931-3844 at least two days in advance.
Phone reservations, press 1. Monday-Friday, 8am-5pm (CT)
Where's My Ride, press 2. Monday-Saturday, 5am-7pm (CT)
When you call, you will need:
Medicaid ID number
Address
Phone number
Date and time
Any unique needs you may have, like using a wheelchair or walker, so the right vehicle can be sent
Want more information to help you stay healthy during your pregnancy?
Call Member Services for help with:
Learning about your health plan
Finding a doctor
Scheduling an appointment
Getting a new ID card
Accessing benefits and services
HEALTHfirst STAR Medicaid
1-888-672-2277
KIDSfirst CHIP/CHIP Perinate
1-888-814-2352
8am to 5pm CT Monday to Friday (except state holidays) 
093_03_20220919_001MC