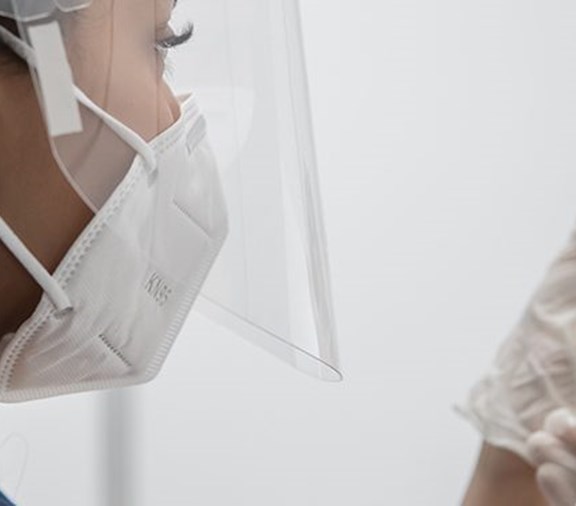 Why should I get the COVID-19 vaccine?
A COVID-19 vaccine helps protect you from getting sick. That's important because, if you get sick with COVID-19:
there's no way to know how it will affect you
you might get very sick—or even die
you could spread it to other people, even if you don't feel sick
Can my children get the COVID1-19 vaccine?
It depends on their age.
To get the Pfizer vaccine – you must be at least 16 years old.
To get the Moderna vaccine – you must be at least 18 years old.
Is the COVID-19 vaccine free?
Yes. You do not have to pay to get the vaccine injections.
How does the vaccine work?
The vaccine teaches our bodies how to fight the virus that causes COVID-19.
The vaccine is given as a shot, or injection, into your arm. You will need to get two injections.
After you get the first injection, you will wait a few weeks. Then you will come back for the second injection.
Can I get COVID-19 from the vaccine?
No. The vaccine does not contain the virus.
Are COVID-19 vaccines safe?
Yes. As of February 2021, vaccines from two companies—Pfizer and Moderna—are approved for use in the United States.
During the testing phase, more than 70,000 people received the vaccines from Pfizer and Moderna.
The vast majority of people in the tests had no serious side effects.
Both the Food and Drug Administration (FDA) and the Centers for Disease Control (CDC) approved the vaccines. At Parkland Community Health Plan, we believe these vaccines will help to keep people safe from getting the coronavirus.
Does the vaccine cause side effects?
Some people who get the vaccine have mild side effects for one or two days after the shots.
These symptoms are normal. They are a sign that the body is learning to fight COVID-19.
COVID-19 side effects can include:
feeling tired
headache
chills
muscle pain
joint pain
Can I get the COVID-19 vaccine now?
Maybe. As of February 2021, you might be eligible for the vaccine if you:
are pregnant
work in a hospital or healthcare facility
live at a nursing home, assisted living facility or other long-term care location
are 65 or older
are 16 or older and have certain health conditions, such as:
cancer
chronic kidney disease
COPD (chronic obstructive pulmonary disease)
Down Syndrome
heart failure, coronary artery disease or cardiomyopathies
organ transplantation
obesity
sickle cell disease
type 2 diabetes
If you have a medical condition that is not on the list, talk to your doctor. You may qualify for a COVID-19 vaccine.
Check the Texas Health and Human Services website for updates:
https://www.dshs.state.tx.us/coronavirus/immunize/vaccine.aspx
Where can I get the COVID-19 vaccine?
There are several places in the Dallas area where you can get your vaccine injections or shots.
Before you make an appointment, make sure you can get to that same location two times.
After you get your first vaccine shot, you will come back a few weeks later for your second shot.
For Dallas County information, visit:
https://www.dallascounty.org/covid-19/vaccine-landing.php
I have more questions. Where can I get answers?
Talk to your doctor about your specific health concerns related to the COVID-19 vaccine.
To read more, visit:
Texas Health and Human Services Covid-19 Vaccine Webpage
https://www.dshs.state.tx.us/coronavirus/immunize/vaccine.aspx
Centers for Disease Control & Prevention Covid-19 Vaccine Webpage
https://www.cdc.gov/coronavirus/2019-ncov/vaccines/index.html