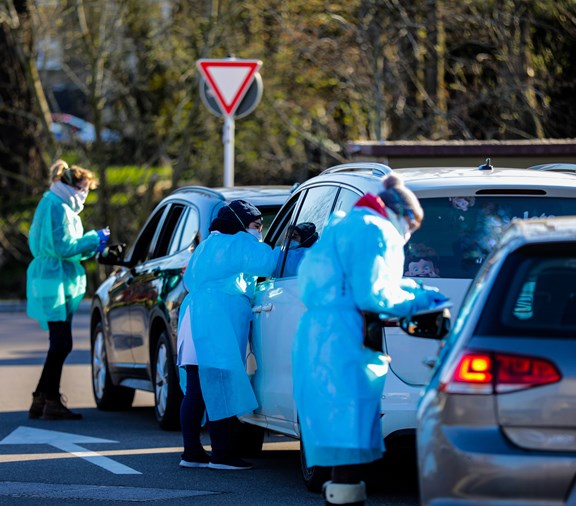 COVID-19 and Medicaid: What to Know About Testing and Other Services
March 31, 2021
It's been one year since COVID-19 first came to the United States. The number of infections is getting lower, but new cases are still being reported every day.
The good news is that getting a COVID test is quick and easy. If you're thinking about getting tested, here are a few things you need to know.
Does my health plan cover COVID-19 tests?
Yes – COVID testing is free to everyone in the U.S., including people with Texas Medicaid (STAR) and Children's Health Insurance Program (CHIP) plans.
When should I get tested?
You should get tested if:
You have been near someone who recently tested positive for COVID-19.
You live in an area with a high number of cases and were around people not wearing masks or social distancing.
You recently traveled to, and stayed in, an area with a lot of cases.
You are experiencing some of the most common symptoms – fever, cough, and shortness of breath.
You do not need to have any symptoms to get tested for COVID-19.
If you think you may have COVID-19, be sure to stay away from others while you're waiting for your test results. Continue to wear a mask and wash your hands often.
Where can I get tested?
The best way to get a COVID-19 test is to contact your doctor. Your doctor can give you the test during an office visit. They can also help you find other locations that offer the test nearby.
If you think you might have the virus, call your doctor before going to their office. This will help you to keep away from other people and will keep you from spreading the virus if you have it.
Click here to see a map of testing locations in Texas. You can also get COVID-19 tests at some larger pharmacies like CVS, Walgreens, and Walmart.
What happens next?
In most cases, you should receive results within a few days. To learn more about how COVID-19 tests work, click here. You can also visit the Texas Health and Human Services website for more information.
Most cases of COVID-19 are mild and only last a few days. If you are having more serious symptoms, like trouble breathing, call 9-1-1.
Are you struggling to get by due to job loss or lack of resources?
Many people have lost their jobs during the last year and are now having trouble paying for their expenses.
The 2-1-1 Texas hotline can help you find resources to assist with rent, groceries, and other items. Call us to get information about COVID-19 services like testing, community clinics, and unemployment benefits.
Many people are worried about getting the virus, but COVID-19 has also caused a lot of stress about other things, like losing a job or paying for childcare. If you need to talk with a counselor about something that's bothering you, call 1-833-986-1919.
093_003_20210322_001MC