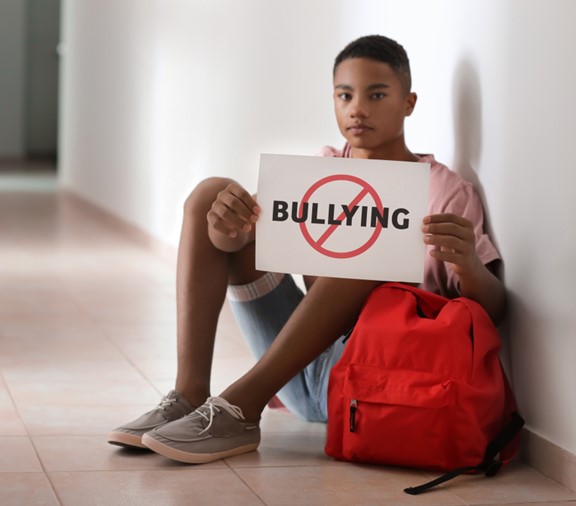 Children with Disabilities and Bullying: What Parents Should Know
January 27, 2023

About one in five children and teens report being bullied. If your child has a disability or special health need, they are more likely to be bullied, according to stopbullying.gov.
You can help your child by:
Learning about the different types of bullying
Making it easier for your child to discuss their experiences
Finding school-based and other resources to help prevent—or stop—bullying
First, it's important to understand the definition of bullying.
Bullying can be verbal, social, or physical, such as:
Name-calling or using cruel nicknames
Mocking or imitating a disability
Spreading rumors at school or on social media
Threatening harm
Hitting, kicking, or throwing objects
Stealing or breaking possessions or medical devices
Excluding a child from groups during class, lunch, recess, or online
Other behavior that makes someone feel afraid or humiliated
People of all ages can bully others. Almost everyone will experience it at some point in their lives.
However, it is not a healthy or "normal" stage of development.
Bullying is a serious problem that can lead to:
Refusing to go to school
Lower grades
Inability to concentrate in class or while doing homework
Losing interest in school and hobbies
Dropping out of school
Did your child tell you they are being bullied, teased, or "picked on" by other students?
Some children are too embarrassed to talk about bullying. Others fear nothing can, or will, be done to solve the problem.
Here are some ways to help your child:
Ask your child about school, including friends.
Use car rides or meals for conversation, not using your devices.
Listen patiently. Let your child describe their experiences in their own words.
Believe what your child tells you. Don't assume they are exaggerating.
Support your child's feelings. Tell them nobody deserves to be bullied.
Reassure your child that you will help.
Learn about anti-bullying resources in your school, community, and beyond.
When children and teens attend school with those who harm them socially or emotionally, they need support. Parents, teachers, and other adults are responsible for finding solutions.
Therefore, do not tell your child:
To stand up to the bully. This can lead to more problems.
To ignore the bully. In most cases, this is not realistic, or possible.
To take matters into their own hands, especially if your child has a disability.
How can friends and other students help to prevent, or reduce, bullying? There are several ways to lend support.
Peers can help friends being teased or harassed by:
Taking them to another room, conversation group, or cafeteria table
Letting them know they are important and deserve to be safe
Helping them talk with a parent, teacher, coach, or other adult
If it is safe to do so, asking the person doing the bullying to stop
Get help with anxiety, depression, and more.
Carelon Behavioral Health is here to help you with behavioral health treatment for depression, anxiety, marriage and family problems, or alcohol and drug abuse.
You do not need approval for individual, family, or group therapy. Also, you do not need a referral from your regular doctor.
English/Spanish interpreter services available 24 hours a day, 7 days a week.
For emergencies, call 9-1-1.
HEALTHfirst STAR Medicaid 1-800-945-4644
KIDSfirst CHIP 1-800-945-4644
KIDSfirst CHIP Perinate 1-888-814-2352