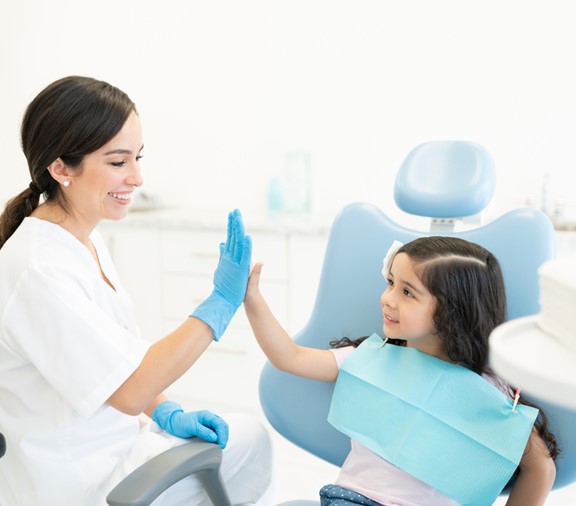 Childhood Fear of the Dentist: Here's How to Help
October 24, 2022

Are you afraid of the dentist? It's a common fear.
For many people, dental anxiety starts in childhood. Adults or children who are afraid of the dentist might be tempted to skip cleanings and other routine care.
When cavities and other problems are caught early, they are much easier to treat. Best of all, regular visits to the dentist can prevent cavities, infections, and other problems from starting in the first place.
Does your child have anxiety at the dentist? Here are a few ways to help them feel calmer and more confident.
Schedule appointments during your child's best time of day.
Some children are "morning people." They are happier and more patient before 10 a.m. Others have higher energy and better moods after lunch or after school.
When possible, schedule dental visits for the time of day when your child is least likely to be tired, hungry, or irritable.
Be prepared to wait two or more months for a dental appointment.
Many dentists are booked months in advance. If you want to schedule appointments before your child starts school or during holiday breaks, be sure to plan ahead.
This will also help you to get an appointment during the time of day you—and your child—prefer.
Be a good role model.
Scheduling a dental visit for yourself? Take your child with you.
On the way there, speak positively about the appointment. Afterward, talk about your checkup, cleaning, or other care. Your child will form opinions about the dentist simply by watching and listening to you.
Read books about the dentist to your child.
The reclining dental chair, the spray of water, and the noise of the equipment can be scary to children. So can holding their mouth open while someone looks inside.
Your child will see, hear, and smell many new things at the dentist. Many children's books have been published to help take away any fear of the unknown.
You'll find books about going to the dentist geared for every age, from preschool to elementary school years. Make reading about teeth and dental care a positive activity. Be sure to answer questions about what happens during checkups.
Make brushing fun.
Does your child forget to brush their teeth in the morning? Do you need to nag them about brushing before bed?
You're not alone. So, try to make daily dental care as fun as possible. Let your child pick out their favorite toothpaste. Use fun water cups and choose favorite colors for toothbrushes. Sing a silly song and challenge them to keep brushing until you finish singing. 
Most of all, never use scary dental treatment as a way to "trick" your child into taking better care of their teeth. That can increase your child's fear of the dentist or create anxiety where there is none.
Be sure to use your dental benefits!
Visit the dentist every six months for a checkup and cleaning. Parkland Community Health Plan members do not need a referral from their doctor to visit a dentist.
Call your child's Medicaid dental plan to learn more about the services they offer.
Check your Dental ID card to see which dental provider you have:
DentaQuest
1-800-516-0165
MCNA Dental
1-800-494-6262
United Healthcare Dental
1-800-822-5353
Parkland Community Health Plan's HEALTHfirst and KIDSfirst plans cover emergency dental services, including:
treatment of a dislocated jaw
treatment for traumatic damage to teeth and supporting structures
removal of cysts
treatment of an abscessed tooth or gum