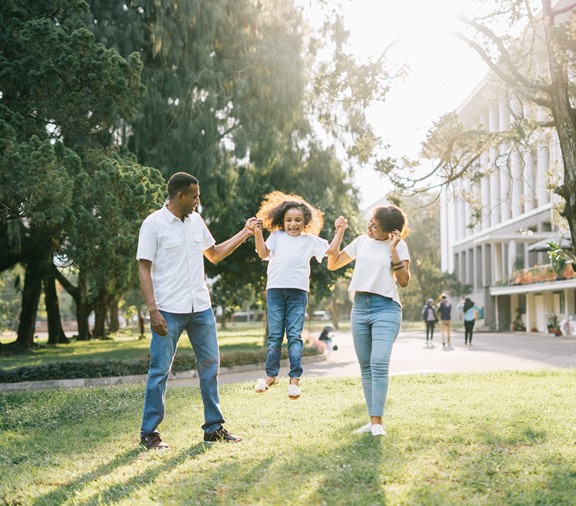 A Pediatrician's Tips for Safety During Summer Sports and Exercise
June 23, 2023

It's almost time for summer fun outdoors. Whether you like team sports, a solo bike ride, or enjoying the warm weather as a family, summer has something for everyone.
As you plan your outdoor exercise, be sure to keep safety in mind. That way, you'll prevent the accidents and injuries that can keep you from your favorite activities.
Learn more: Check out these summer safety tips from Dr. Mary Strength, a pediatrician in north Texas.
How to stay safe at the playground
For young children, a trip to the playground can be a convenient way to burn off energy. Whether your child is climbing the jungle gym or stretching their legs on the swings, they are building muscle while getting fresh air.
Of course, it's important to follow the rules, especially if children climb on high equipment. Clothing is another thing to consider. Leave dangling jewelry, scarves, and straps at home. These items can get caught on equipment and cause injuries.
Watch the video below for more playground safety tips from Dr. Strength. 
How to stay safe while riding bicycles
Whether your children are riding tricycles or road bikes, they are pumping the pedals—and that's great exercise for growing bodies.
Before they get behind the handlebars, make sure they are wearing a helmet. Also, check that their bike is the right size for their height and abilities.
Dr. Strength provides more important bike safety tips in this video.
How to stay safe on the trampoline and mini trampoline
Jumping on a full-sized trampoline or mini trampoline can be a lot of fun. Unfortunately, children of all ages get seriously injured on this equipment every year.
The first safety rule is to always have an adult supervising when children or teenagers are using it. Also, limit use to one person at a time.
Children should be at least six years old before they are allowed on a trampoline of any size.
Dr. Strength shares additional safety tips in this video.
Safety for skateboard, scooter, inline skating, and Heelys
Playgrounds, bicycles, and trampolines are just the beginning. There are countless ways to get out and exercise during the long days of summer, with or without equipment.
Many children enjoy testing their balance, strength, and reflexes on skateboards, scooters, inline skates, and Heelys.
To prevent serious head injuries, helmets are especially important when children use any equipment with wheels. Be sure the helmet fits properly and use one with a chin strap and thick liner.
Supervise children younger than age nine when they are on wheels. Teach them to use designated paths or rinks for in-line skating and Heelys. Show them how to practice falling on soft surfaces.
Last but not least, stay far away from moving traffic. It's far easier to prevent an accident than to recover from one.
Have a safe and happy summer. Move your body! It's essential to good health.  
Complete your annual Health Risk Assessment—earn $20 in Parkland rewards!
As a Parkland Community Health Plan member, you can earn reward points for completing certain wellness activities. Then, you can spend those points on items in the Rewards Catalog.
Want to earn $20 in rewards points?
Simply complete a yearly Health Risk Assessment on the Member Portal. You will receive your reward points in approximately three months.
Call 214-393-7003 (TTY: 1-800-735-2989) to learn about the Parkland Health Risk Assessment reward.
Disclaimer—The provided content is for informational purposes only and does not constitute medical advice. Consult your individual provider for any specific concerns or questions.