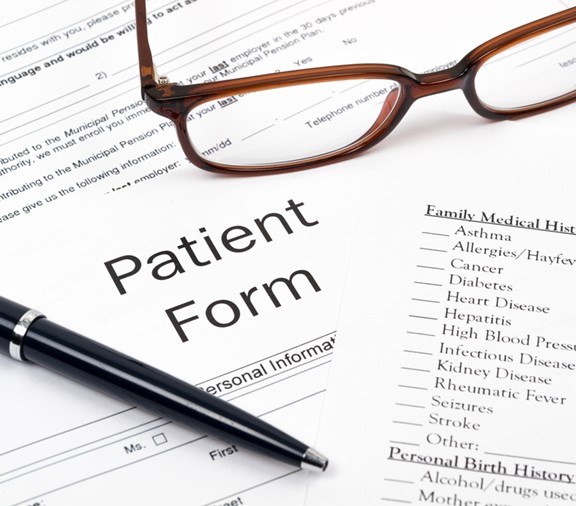 What You Need to Know About Medical Forms
September 11, 2023

Getting ready for a doctor's appointment?
Then you will be filling out paperwork, also known as "medical forms."
Whether you are seeing a medical provider for a pregnancy checkup, taking your children for their annual exams, or helping a senior family member get flu shots or other care, your visit will run more smoothly if you plan ahead for the paperwork.  
A few weeks before your appointment, take a few minutes to gather the information you'll need. If you are missing something, you'll have time to find it before you arrive in the doctor's waiting room.
It's a good idea to keep a folder with important papers for every member of your family. This will make it easier to find the information you need.
What you'll need when seeing a new doctor
If you or your child switched from one doctor's office to another, you will need to ask to have medical records sent to the new office.
As soon as you make your appointment, call the doctor you saw in the past. Ask the staff there to send any medical information for you or your child to the new office. (You will need to give them the address or fax number for your new doctor's office.)
For example, if your child is switching doctors, make sure their new doctor has their vaccination history. This is also called their "yearly shots" card.
It can take up to a month for the staff to send the medical information. So be sure to start the process early!
Is your child going to the doctor without you?
If a friend or relative is taking your child to the doctor, they will need written permission from you to show to the office staff.
When you schedule the appointment, ask the doctor's office what they need you to write on the paper. This allows the doctor to discuss your child's medical information with the friend or relative.
Usually, the office staff will ask you to write your name and the date on the paper, write a sentence or two giving permission, and then sign it.
Other information you will need for medical forms
Whether you are visiting a doctor for the first time or returning for ongoing care, you will be asked to confirm certain information.
This could include:
Personal information
Full name.
Home address.
Date of birth.
Emergency contact information.
Phone number.
Email address.
Preferred method of contact (phone, text, email).
Medicaid ID number.
Your and your child's medical history
A list of past vaccinations (shots) received.
Medication and prescriptions used.
Past surgeries.
Past hospitalizations.
Drug and alcohol use, if any.
Sexual history.
Pregnancy history.
Your family medical history
Pregnancy complications.
High cholesterol.
High blood pressure.
Heart disease.
If you don't have all of this information, bring what you do have—along with any questions for your doctor.
The paperwork can be time-consuming, but it's an important part of communicating with your healthcare providers—and getting the right care for yourself and your family.
Call the free 24-hour Nurse Line.
Have questions about recovery from surgery, childbirth, or an accident?
Are you feeling dizzy or weak—and worried you have a heat-related sickness?
Get professional help. Call the 24-Hour Nurse Line.

There is no cost to you for this Parkland Community Health Plan service.
HEALTHfirst STAR Medicaid 1-888-667-7890
KIDSfirst CHIP/CHIP Perinate 1-800-357-3162