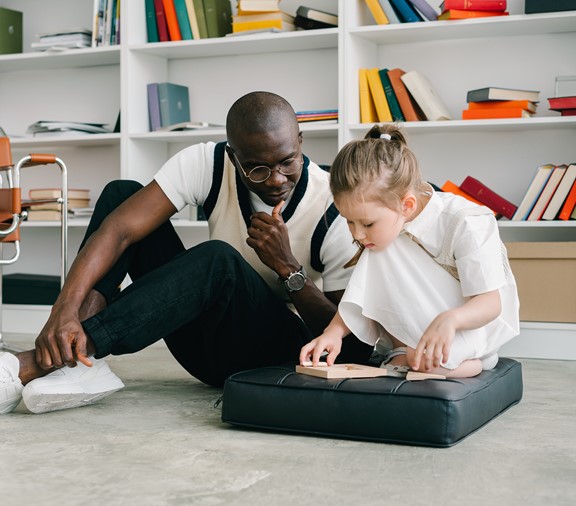 PCHP Explains: What is Autism?
May 3, 2023

You may have heard about autism or know someone who's been diagnosed with it. It's a condition that that can be hard to deal with and understand. Tamara Gavin, Parkland Community Health Plan's Vice President of Behavioral Health, shares some facts on what autism is – and what parents can do if their child is diagnosed.
What is autism?
Autism spectrum disorder (ASD) is a condition that may cause children to have limited and repeated behavior, interests, or activities. People with ASD can also have trouble communicating or interacting with others. In most cases, symptoms will start to appear in early childhood.
What are the most common signs of autism? When do they start to appear?
Symptoms of ASD can include a wide range of developmental delays. They can be seen in children as young as 12 months old. Children with ASD may:
Have trouble making eye contact.
Not interact much with others.
Have delayed or limited communication skills (both verbal and nonverbal).
Have trouble dealing with changes in their routine.
Not be able to read social cues.
Not be aware of dangers in their environment. (For example, they might wander away or run into traffic.)
Make certain body movements (like flapping their hands) over and over.
Be bothered by the way certain foods or clothing materials feel (their texture).
Get frustrated easily. In extreme cases, this could include behaving aggressively toward themselves or others.
How is autism diagnosed?
ASD can be diagnosed after thoroughly assessing a child's symptoms and development. The doctor will use specific tools to help determine if your child has autism. This can include talking with the child's family or caregivers and observing the child directly. For Texas STAR Medicaid members, there are specific types of providers who can diagnose ASD and evaluate the need for special forms of treatment like Applied Behavior Analysis (ABA). Those providers include:
A developmental pediatrician.
A neurologist.
A psychiatrist.
A licensed psychologist.
ASD also can be diagnosed by an interdisciplinary team. This group would include a physician or other provider who is qualified to diagnose ASD. That person would then consult with other providers specializing in autism as needed. The providers in the group must be qualified child specialists and have expertise in autism.
If I think my child is showing signs of autism, what should I do?
Talk to your child's primary care provider about your concerns. If needed, they can help refer your child to another provider who is able to assess and diagnose ASD. Families can also call PCHP Member Services at 1-888-672-2277 to get a provider referral.
My child has been diagnosed – what should I do now?
If your child is diagnosed with Autism Spectrum Disorder, you should work with their doctor to decide which treatment services will work best for them. There are many services available to help treat the symptoms of ASD. These services include but are not limited to:
Applied Behavior Analysis (ABA).
Occupational therapy.
Physical therapy.
Speech therapy.
Outpatient behavioral health services.
Children with ASD may experience a wide range of symptoms. If a child has mild symptoms that do not keep them from functioning successfully, they may not need any treatment at all. Children with moderate or more serious symptoms of ASD may need treatment to learn how to manage their condition. A lot of children who receive treatment for ASD improve enough to manage their symptoms on their own or with very little support.
============
Do you need insurance for yourself and your children?
Texas STAR Medicaid and CHIP provide healthcare for low-income families, children, and pregnant women at low or no cost.