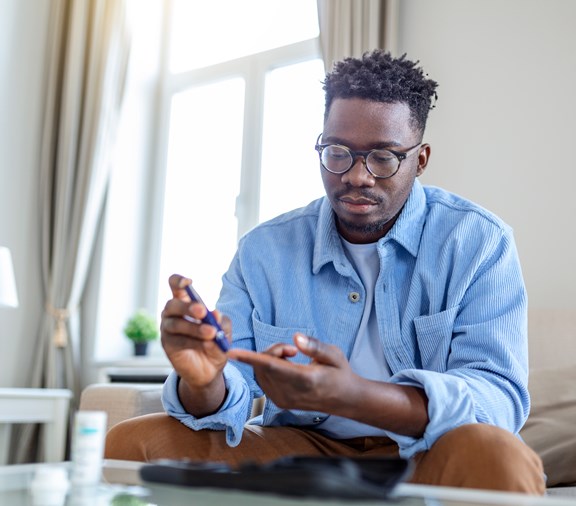 Need Help With Diabetes? Try Condition Management.
November 16, 2023
Living with diabetes can be a challenge – but when you understand your condition, it's easier to stay healthy. PCHP members have access to the Be in Control condition management program, which helps members manage chronic conditions like asthma and diabetes. Keep reading to hear from PCHP's Diabetic Educator, Althea Armstrong, about how you and your family can handle diabetes every day.
What is condition management, and how can a Diabetic Educator help?
Condition management programs offer education, coaching, and other services that can help people better manage their health. A Diabetic Educator provides information, resources, and support to health plan members and their family members regarding all types of diabetes. Our goal is to help people with diabetes better self-manage their blood glucose, A1C, and overall health. A diabetic educator also helps people to develop and implement better lifestyle choices to control their diabetes, reduce the risks of health complications, reduce the need for preventable hospital visits, and promote ongoing healthy living.
What are some of the most common questions you hear from members?
What is Type 1/Type 2 diabetes?

With Type 1 diabetes, your body does not make insulin, which is needed to control your blood sugar levels. With Type 2 diabetes, your body makes insulin but doesn't use it well, so your blood sugar does not stay at normal levels. Type 1 diabetes can't be prevented, but Type 2 diabetes is preventable with proper nutrition and exercise.

Can my diabetes be cured?

Currently, there is no cure – but losing weight, eating well, and exercising can help manage the disease.

What should my blood glucose level be?

Normal fasting blood glucose levels are between 70 and 100 mg/dL.

How often should I check my blood glucose level?

It depends on the type of diabetes you have and your treatment plan. Most people will need to check it several times each day, including before meals and at bedtime.

What is an A1C level? What should it be?

The A1C test—also known as the hemoglobin A1C or HbA1c test—is a simple blood test that measures your average blood sugar levels over the past three months. The goal for most people with diabetes is an A1c level of 7% or less.

What are the best foods for me to eat?

It's important to eat a range of healthy foods, including non-starchy vegetables, fruits, whole grains, lean meats, and protein.

How often should I see my doctor?

If you're meeting your treatment goals, you should visit your doctor every 6 months.
How do things like exercise and nutrition affect people with diabetes?
Regular physical activity makes the body more receptive to insulin. It helps control blood sugar levels, and it lowers the risk of heart disease and peripheral nerve damage. Healthy nutrition choices make it easier to keep blood glucose levels in the target range, and they make it easier to achieve and maintain a healthy weight.
What are the most important things someone can do to manage (or prevent) diabetes?
Whether you're trying to prevent or manage diabetes, it's important to:
Maintain a healthy weight.
Eat healthy foods, focusing on plant-based choices that provide increased fiber.

Avoid "bad carbohydrates" like white bread, flour tortillas, pasta, potatoes, refried beans, and white rice, which may be high in sugars and/or low in nutrients.
Eat healthy fats such as olive or canola oils, avocados, nuts, salmon, and sardines.
Maintain healthy portion sizes.

Get regular cardio exercise like walking, dancing, or riding a bike.
Avoid smoking.
Schedule regular appointments with your healthcare providers (including your primary care physician, ophthalmologist, and dentist).
Take your medications as prescribed.
Stay informed about your blood glucose and A1C levels.
What else should I know about condition management?
Diabetes prevention is always the goal. However, it is imperative for all individuals with signs and symptoms of diabetes to be diagnosed and treated as soon as possible. High blood glucose levels, high A1C levels, and uncontrolled symptoms may lead to the extreme consequences of kidney failure requiring dialysis, blindness, limb amputation, stroke, and/or heart attacks. It is very important to:
Make healthy and sustainable lifestyle choices instead of temporary "fad" choices.
Take medications as prescribed.
Attend all health care appointments.
Take charge of your health! Healthy food choices and regular exercise are key to maintaining a productive, satisfying, and healthy lifestyle while living with diabetes. It can be done – and YOU can do it!