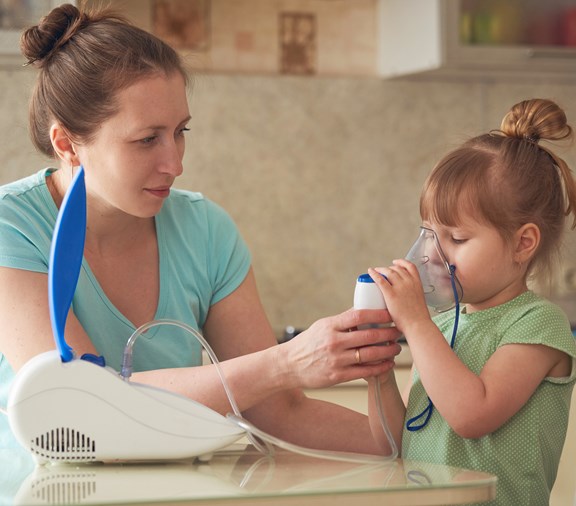 How to Prepare for Emergencies When You Have Asthma or Diabetes
April 21, 2023

Planning ahead for severe weather is an important way to stay safe and healthy. That's especially true if you have asthma or diabetes.
Hurricanes, tornadoes, fires, floods, and other disasters can hit close to home. If you lost electrical power, would you be able to find your medication? If you had to evacuate, would you be ready to pack all medical supplies?
Follow the tips here to plan ahead and take good care of yourself—rain or shine.
Emergency Planning for Asthma
Before the disaster:
Ask your doctor for help making a plan for fires, floods, and other hazards.
Make a list of all your medications. Get a seven-day supply of your asthma medication to keep "just in case." You might not be able to get to a pharmacy during severe weather.
Get a flu shot every year. If you get the flu, your asthma could get worse.
During the disaster:
Avoid your asthma triggers, such as smoke and mold, as much as possible.
Wash your hands often to keep germs—and illness—away.
Check your medication. Make sure it doesn't get wet or lost during the disaster.
After the disaster:
Clean any mold in your home. Mold can cause an asthma attack.
Deep clean all surfaces, such as kitchen counters, sinks, floors, and walls.
If you are feeling anxious or depressed, call your doctor. Natural disasters can be very hard on your mental health.
Emergency Planning for Diabetes
Talk to your doctor to help you make an emergency "to do" list. With good planning, you will keep your glucose from getting too high—or too low—during a disaster.
Gather emergency supplies:
If you take insulin or other medicines that lower your blood sugar, keep snacks on hand in case your blood sugar gets too low.
Store enough diabetes medication and supplies for 30 days.
Make sure you have enough insulin, insulin delivery supplies, glucose monitoring equipment, and a glucagon emergency kit.
Keep supplies in a box or container and label the outside.
Store the box or container in a place where you can find it quickly.
Inform others:
Tell family members the contact information for your doctor.
Wear your medical identification at all times.
Tell coworkers, friends, and family members about your diabetes.
Tell them where to find your emergency supplies.
If your child has diabetes, make sure their school has all emergency contact information.
For a more detailed list, check out the American College of Endocrinology's My Diabetes Emergency Plan. It is available in English and Spanish.
Need Help?
The Be in Control program is here to support your healthy lifestyle. If you have questions about your medicines or any health concern, you can call 1-866-461-7227 and speak to a care manager.
If you are having a medical emergency, call 9-1-1 or your local emergency services right away.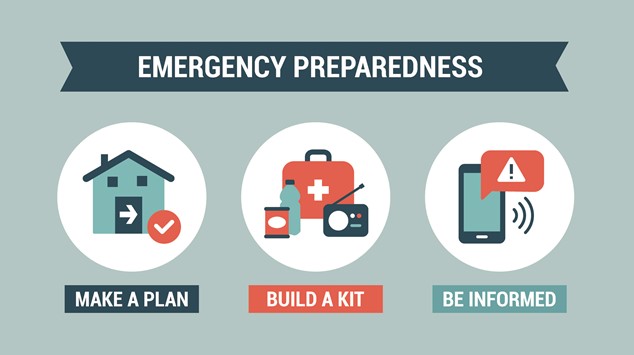 It's Good to Be Prepared
Even if you don't have asthma or diabetes, it's a good idea to make a disaster plan.
Decide how you and your family will stay safe and connected during a disaster. Talk about each family member's role, and discuss where you will meet if you are separated.
Create an emergency toolkit that can survive water and fire. This includes:

Social Security card.
Birth certificate.
Health insurance information.
List of emergency contacts and healthcare providers, with phone numbers.
Battery-operated flashlights, a radio, and extra batteries.
Toothbrushes, toothpaste, toilet paper, soap, and hand sanitizer.
Bottled water and food that won't go bad quickly. Low-sodium canned foods, whole-grain pasta or cereal, and dried fruit are good options. Make sure to include a manual can opener.
Pet food, if you have a furry friend.

Does someone in your household use medical equipment that relies on electricity (such as oxygen or a refrigerator for certain medicines)? If so, call 2-1-1 or ask your doctor what to do if the power goes out.
Sign up for emergency alerts in your area.*
Review your disaster plan every year and adjust it to meet your current needs.
*Terms and conditions may apply.