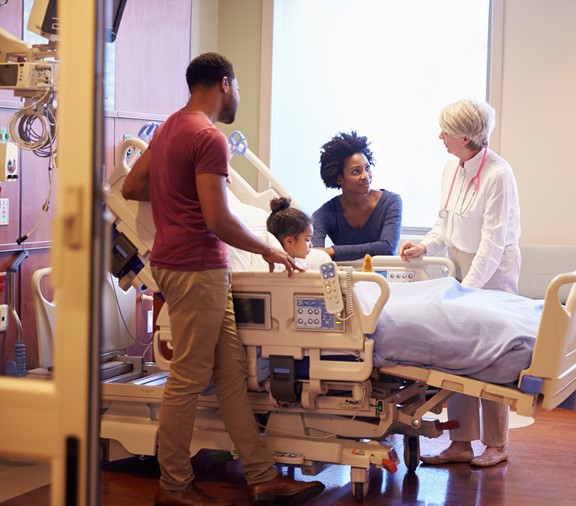 A Pediatrician Explains: How to Prevent Holiday ER Visits
December 23, 2022

The holidays are a fun break from routine.
You and your family might plan to visit or host friends and family, enjoy time off from school, and try new foods, games, and toys.
With just a little more planning, you can prevent a trip to the emergency room during this busy time of year.
Dr. Mariel Silva, a pediatrician in North Texas, explains why families end up at the ER—and how to avoid it.
What are common reasons for holiday ER visits?
According to Dr. Silva, parents take children to the emergency room for:
Swallowing small objects
Getting hurt while playing 
Fevers
Flu
Allergic reactions
Serious cuts
You can hear Dr. Silva discuss these emergencies in this brief video:
When should I take my child to the ER?
Some illnesses and injuries are not medical emergencies. For minor incidents, you can take your child to an urgent care center or call the pediatrician.
However, if your child's life is in danger, or the injury is severe, take them to the ER.
Some symptoms that require emergency care include:
Struggling to breathe
Broken limbs
Fainting
High fever
Vomiting with severe pain
Green vomit
Diarrhea with fever
Bloody stool
Bleeding that does not stop
Cuts on the face or throat
Swallowing a small object, such as a battery
Large burns
In this video, Dr. Silva discusses these symptoms in more detail:
How can parents help prevent holiday emergencies?
Although holiday emergencies are common, many are easy to prevent.
For example, before gift exchanges, parties, and other crowded events, take a few minutes to review safety rules with your children. That means no running indoors, staying out of the kitchen, and no pushing or shoving.
Other tips include:
Making sure all gifts and toys are age-appropriate
Supervising any trampoline use
Getting flu shots
Monitoring party food if your child has allergies
Carrying an EpiPen
Keeping all sharp objects away from children.
Hear more helpful tips from Dr. Silva in this final video.
Call the free 24-hour Nurse Line.
Have questions about cuts, burns, or other painful injuries?
Is your child vomiting, shivering, or wheezing—and you're not sure what to do next?
Get professional help by calling the 24-Hour Nurse Line.
There is no cost to you for this Parkland Community Health Plan service.
HEALTHfirst STAR Medicaid 1-888-667-7890
KIDSfirst CHIP/CHIP Perinate 1-800-357-3162