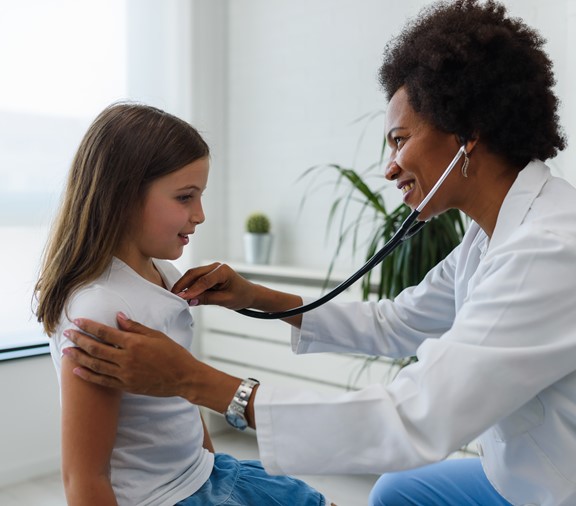 A Pediatrician Explains: How to Prepare for a Doctor's Visit
December 26, 2022

From birth through late teen years, your child will visit the pediatrician often. Regular doctor visits are a normal part of growing up as healthy as possible.
Make it easy for your child—and for you. Prepare ahead of time with these tips from Dr. Mary Strength, a pediatrician in North Texas.
What kinds of appointments are available for my child?
Some pediatrician visits are unplanned, such as those for diagnosing and treating sudden illness and injury. Others are scheduled in advance, such as well-baby checkups and vaccinations.
Pediatrician visits can also be for:
Follow-up after an emergency room visit
Lab work
Flu shots
Baby weight checks
Mental health team conferences
You might need to bring paperwork for one type of visit. Some appointments take longer than others.
In this video, Dr. Strength explains what to expect during different types of pediatrician visits.
How to determine the type of appointment your child needs:
When you call the pediatrician's office to schedule the visit, be sure to tell the staff the reason your child needs to see the doctor.
Ask if you can use telemedicine instead of traveling to the office. Telemedicine lets you see and talk to the doctor using a laptop, tablet, or smartphone.
Dr. Strength discusses when telemedicine can be used in this brief video:
How should I plan ahead for the appointment?
Are you switching your child to a new pediatrician? If so, you will need to plan ahead for the first office visit.
First, make sure the new doctor is in your insurance network. Call your insurance plan and tell them you will be using a new pediatrician.
It's important to call your child's previous doctor to request all medical records and vaccination card. It may take several weeks or a month to get these records, so start the process right away.
If a friend or relative is taking your child to the doctor, they will need written permission from you to show to the office staff. Arrive early so you have time for any paperwork and questions.
Get the pediatrician's point of view in this video from Dr. Strength.
How can I prepare my child for the pediatrician visit?
Visits to the doctor can be stressful for anyone—especially for babies, toddlers, and children.
One way to make the visit easier is to dress your child in simple, comfortable clothes. Leave the fancy snaps, buttons, bows, and layers at home, but do bring a favorite toy or blanket.
Also, remember: your child is watching and listening for clues! Talk in a positive way about the doctor. Look for books or videos about going to the doctor, and schedule time to read or watch them together.
Get more tips from Dr. Strength:
Complete your annual health risk assessment—earn $20 in Parkland rewards!
As a Parkland Community Health Plan member, you can earn reward points for completing certain wellness activities. Then, you can spend those points on items in the Rewards Catalog.
Want to earn $20 in rewards points?
Simply complete a yearly Health Risk Assessment on the Member Portal. You will receive your reward points in approximately three months.
Call 214-393-7003 (TTY:1-800-735-2989) to learn more about the Parkland Health Risk Assessment reward.