QISD Bikes and Books Safety Rodeo and Helmet Give-Away
Event Details
This event, held at Butler Intermediate School, features a bicycle safety course, where children learn the importance of avoiding hazards, obeying stop signs, yielding to traffic and being aware of their surroundings when riding their bikes.
All children visit a helmet fitting station where they were fitted with a free safety helmet, as well as a bike safety check station where volunteers inspected bikes to make sure they were in safe condition.
Participants get to take a tour of a fire truck and the AirEvac 67 Helicopter, coordinated by Cindy Hichcock of Hunt County EMS and Quinlan VFD.  There was also a visit from McGruff the Crime Dog, sponsored by the Quinlan PD. Children area also able to pick out a free, age-appropriate book related to bikes, donated by Altrusa International of Greenville.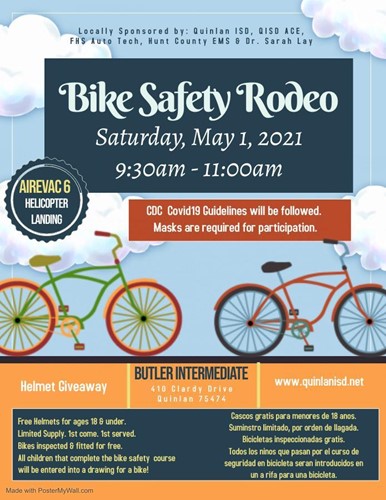 Event Date
Saturday, May 1, 2021 9:30 AM to 11:00 AM
Location
Butler Intermediate School
410 Clardy Dr
Quinlan, Texas 75474