Dallas Healthy Start - 4th Trimester Postpartum Education
Event Details
Becoming a Mom/ Comenzando Bien is a bilingual prenatal series dedicated to improving the health of moms and their babies by preventing birth defects, premature births, and infant mortality. All provided to mothers in a supportive virtual group setting.
GOALS
To educate women on accurate and timely information about prenatal care, having a healthy pregnancy, a positive birth outcome, and adequate postpartum care.
To create a supportive environment that promotes healthy behaviors.
To help participants overcome barriers to care and become assertive informed consumers of prenatal care services. Learn their rights and responsibilities of advocating for you and your baby.
Assisting with community resources available before, during, and after pregnancy.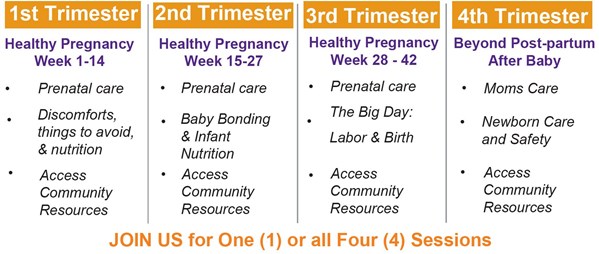 Event Date
Tuesday, May 25, 2021 10:00 AM to 12:00 PM
Location
Virtual Event