Dallas Healthy Start - 4rto Trimestre Educación Posparto
Event Details
Comenzando bien/ Becoming a Mom es un currículo prenatal bilingüe diseñado por March of Dimes una organización dedicada a mejorar la salud de mamá y sus bebé mediante la prevención de defectos congénitos, nacimientos prematuros, y la mortalidad infantil. Para mamas en un grupo virtual de apoyo.
METAS:
Educar a las mujeres en información precisa y oportuna sobre el cuidado prenatal tener un embarazo saludable, un nacimiento resultado positivo, y postparto sano.
Para crear un ambiente de apoyo que promueve conductas saludables.
Ayudar a los participantes a superar las barreras que se oponen a la atención y a convertirse en consumidores informados con firmeza de los servicios de atención prenatal. Aprende sus derechos y responsabilidades de defender por ti y por tu bebé.
Ayudar con los recursos disponibles en la comunidad antes, durante y después del embarazo.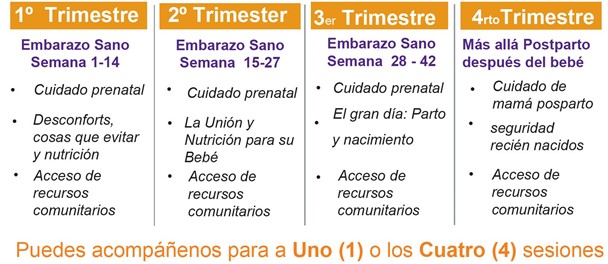 Event Date
Tuesday, May 25, 2021 10:00 AM to 12:00 PM
Location
Virtual Event
Questions?
For questions about events, please email us at PCHPrequests@phhs.org