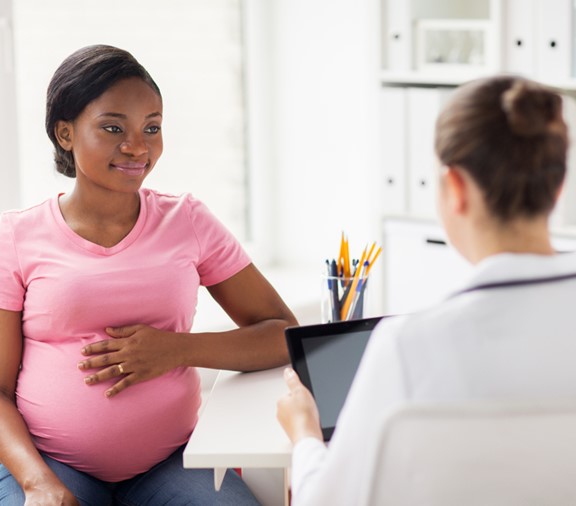 What Happens During a Prenatal Doctor Visit?
October 31, 2022

Are you pregnant? Remember: A healthy baby starts with a healthy pregnancy.  
If you have a normal pregnancy, you will have your baby about 40 weeks from the first day of your last menstrual period. Those weeks will go by fast! Be sure to plan ahead for prenatal visits with your health care provider.
During your pregnancy, you might receive care from:
Obstetricians

An "OB" doctor specializes in caring for pregnant women and delivering babies. If you need a cesarean section delivery, also called a "c-section," an obstetrician can perform this surgery.

Family practice doctors

These medical doctors take care of people of all ages, including women who are pregnant. Your family practice doctor can also care for you during and after you deliver you baby. However, they usually do not perform cesarean deliveries. 
Maternal-fetal medicine specialists

If you have a very high-risk pregnancy, you might need care from a maternal-fetal medicine specialist.
Certified nurse-midwives (CNM)

If you are likely to have a normal pregnancy with low risk of health problems during labor and delivery, you might receive care from a midwife. Most CNMs practice in hospitals and birth centers.
Certified professional midwives (CPM)

Some women choose to have their babies at home or in a birthing center, instead of a hospital. CPMs practice in both settings.
You should plan to see your provider on this schedule:
Once every four weeks for the first 28 weeks or pregnancy.
Once every two to three weeks from 28 to 36 weeks of pregnancy.
Once per week from 36 weeks until you deliver your baby.
This is just a guideline. Your provider might want to see you more often, depending on your health status or medical history.
During prenatal exams, your provider will:
Ask questions about your medical history.
Record any medications you take, such as prescription and over-the-counter drugs, vitamins, or supplements.
Measure your blood pressure and weight.
Perform a breast and pelvic exam.
Measure fetal position, size, heart rate, and extremities.
Order urine tests, bloodwork, and other lab tests.
Ask about your lifestyle, such as smoking, alcohol, and caffeine use.
When you are 24-28 weeks pregnant, test you for gestational diabetes.
Your provider will also help you to estimate your due date. Although only one in 20 women gives birth on their estimated due date, it's important to plan ahead for the final weeks of pregnancy.
Prenatal exams are a good time to ask what to expect during delivery, and to discuss bottle feeding and breastfeeding your baby.
Your provider will also help you to plan ahead for taking care of yourself during the first days and weeks after your baby is born.
Pregnancy is an exciting time, but it can also be stressful.
Be sure to go to every recommended prenatal exam. During these visits, your provider will support you—every step of the way.
Get the free Pyx mobile app
Parkland Community Health Plan members: Want a little boost? Try a friendly chat with Pyx!
Pyx is a mobile app designed for pregnant women aged 18 and older.
You can use Pyx to:
Find a ride to the doctor.
Find out where to get healthy food at no or low cost.
Learn about fun activities to help you relax.
Read jokes to make you smile.
Connect with PCHP's 24-hour Nurse Line.
Get in touch with Member Services.
To sign up for Pyx and download the app, click here.