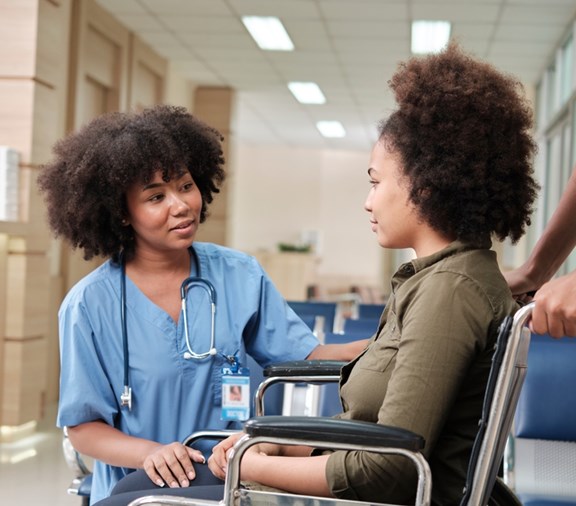 Recovering Safely After a Hospital Stay
November 17, 2023

Have you or someone in your family recently been admitted to the hospital? Some common reasons for a hospital stay include surgery, childbirth, or treatment for complications from diabetes.
If you are recovering from any of those conditions, keep reading. Here, you'll find tips to help you to stay safe and healthy during your first few days—and weeks—back home.
Symptoms that could be an emergency
No matter what reason led to your hospital stay, you should call your doctor immediately if you experience:
Fever
Pain that gets worse
Feeling pain when going to the bathroom
Nausea
Vomiting (throwing up)
Fast heartbeat
Home care after surgery
After surgery, you will probably be weak and tired for several days or weeks. Before you leave the hospital, plan ahead for taking it extra easy at home.
One important step is to ask for help once you are ready to go home. Ask your doctor about home health aides or nursing care if you live alone. If family or friends offer to help, ask them to help prepare your home by:
Decluttering and moving things to avoid tripping hazards like small area rugs.
Preparing frozen meals and stocking the pantry and refrigerator with easy-to-prepare foods.
Once you are home:
Get up to stretch and walk at least once each hour.
Limit or avoid using the stairs.
If you have walkers, crutches, or a bedside toilet—use them!
Sleep near the bathroom to reduce total steps from your couch or bed.
Use night lights to help prevent tripping in the dark.
Wear sturdy, non-slippery shoes or slippers.
Ask your doctor before you return to normal daily activities, such as:
Lifting
Driving
Traveling
Returning to work
Having sex
Home care after giving birth
Congratulations! You've spent months preparing and now your new baby is here. While you are enjoying and caring for your newborn, be sure to take care of yourself, too.
That means trying your best to do the following:
Catch a nap while your baby sleeps.
Set aside time every day to relax.
Take a shower. You'll feel better!
Get outside for a little exercise and fresh air.
Plan ahead for alone time to focus on your partner.
Do just the basics for cleaning and cooking. Rest and self-care comes first.
Have other new moms nearby? Lean on them for support—and give it back.
Ask for help from your partner, friends, and family.
Call your doctor right away if you have:
Trouble breathing
Chest pain
A fast heartbeat
A headache that lasts or gets worse
Thoughts about harming yourself or your baby
Dizziness
Fainting
Trouble seeing or reading
A fever of 100.4°F or higher
Nausea and throwing up
Severe belly pain that doesn't go away
Bleeding or discharge from your vagina
Extreme swelling in your hands or face
Severe swelling, redness or pain of your leg or arm
Extreme tiredness
Home care for diabetes
When you have diabetes, it's important to take good care of yourself every day. That's especially true when you're back home after being admitted to the hospital.
Your top priority is to keep your blood sugar levels at the right range for you. That means preventing both low blood sugar (hypoglycemia) and high blood sugar (hyperglycemia).
If you need help learning how to check your blood sugar levels, call your doctor. They can tell you how often to check and which tool to use.
In addition, follow the self-care tips below to get and stay on track. You'll feel better—and you'll avoid a trip back to the emergency room.
Home care tips for diabetes include:
Eat a variety of healthy foods.
Don't overeat. Control your food portions.
Monitor and maintain a healthy weight.
Get some exercise every day.
Eat meals at the same time most days.
Drink water and other no-sugar liquids.
Avoid alcohol.
If you crave sweets, eat fruit—but monitor your blood sugar levels.
Need answers to health questions? Call the free 24-hour Nurse Line.
Have questions about recovery from surgery, childbirth, illness or infection?
Get professional help. Call the 24-Hour Nurse Line.

There is no cost to you for this Parkland Community Health Plan service.
HEALTHfirst STAR Medicaid: 1-888-667-7890
KIDSfirst CHIP/CHIP Perinate: 1-800-357-3162