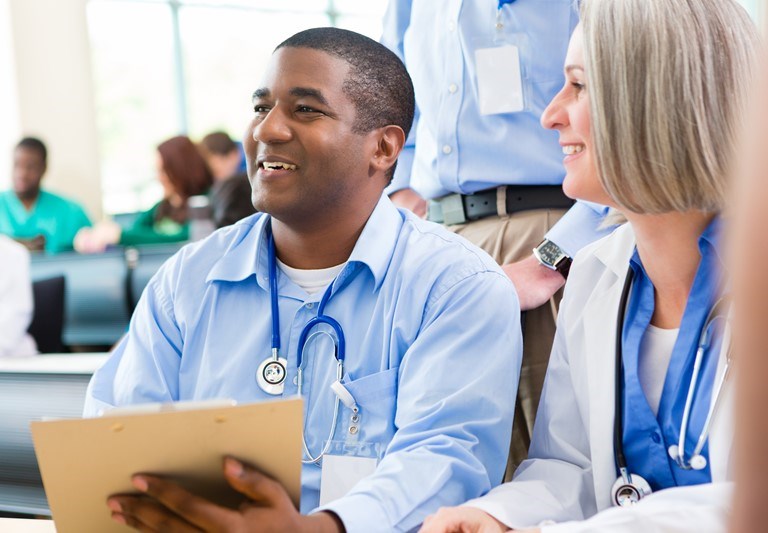 Join Our Network
Become part of a network of physicians, health care professionals and facilities who share our commitment to helping people live healthier lives and making the healthcare system better for everyone.
How to join our network
Interested in becoming part of the PCHP Provider Network?
Fill out our Prospective Provider Form and send it to us by email or mail:
Parkland Community Health Plan
Attn: Network Development
1341 West Mockingbird Lane, Suite 400E
Dallas, TX 75247
To be reimbursed for services rendered to Medicaid Managed Care members, providers must be enrolled in Texas Medicaid. Providers are not considered participating with us until they have enrolled in Texas Medicaid and have been credentialed with a duly executed contract with PCHP.
Providers must submit all requested information necessary to complete the credentialing or re-credentialing process. Each provider must cooperate with PCHP as necessary to conduct credentialing and re-credentialing pursuant to our policies and procedures.
PCHP will utilize the Credentialing Verification Organization (CVO), Aperture, for all initial credentialing and re-credentialing requests. Aperture will collect all credentialing applications, forms, licenses and other relevant information needed to validate a provider's credentials — this is called primary source verification (PSV).
Upon review of the PSV, Aperture will notify PCHP whether a file is complete or incomplete. You will receive a final notification from PCHP upon completion of all credentialing-related actions.
As an applicant for participation in our network, each provider has the right to a fair review of their submitted credentials including license information, malpractice case review, complaints and appeals, claims information, and any other relevant information that will support a comprehensive decision to serve in the PCHP network. Upon notification of a discrepancy, the provider has the right to explain information obtained from another party that may vary substantially from the information provided in the application and to submit corrections to the facts in dispute. The provider must submit a written explanation or appear before the credentialing committee if deemed necessary.
We will complete the initial credentialing process and our claims system will be able to recognize a newly contracted provider no later than 90 calendar days after receipt of a complete application. If an application does not include required information; we will send the applicant written notice of all missing information, no later than five business days after receipt of the application.
If a provider qualifies for expedited credentialing under Texas Insurance Code 1452, Subchapters C, D, and E, regarding providers joining established medical groups or professional practices already contracted with us, our claims system will be able to process claims from the provider as if the provider was a network provider, no later than 30 days after receipt of a clean and complete application, even if the credentialing process has not yet been completed.
PCHP will provide expedited credentialing for certain provider types and allow services to members on a provisional basis as required by Texas Government Code §533.0064 and our state contract with HHSC. Provider types included are licensed clinical social workers, licensed professional counselors, licensed marriage and family therapists and psychologists. To qualify for expedited credentialing, a provider must meet the following criteria:
Be a member of a provider group already contracted with PCHP
Be Medicaid-enrolled
Agree to comply with the terms of the existing provider group contract
Timely submit all documentation and other information required to begin the credentialing process
At least once every three years, we will review and approve the credentials of all participating licensed providers who participate in the PCHP network. The process will take into consideration provider performance data including member complaints and appeals, quality of care and utilization management data.
Providers are required to notify us of a change in address or practice status within 10 days of the effective date of the change. Practice status is defined as a change in office hours, panel status, etc. The inclusion of a new address on a re-credentialing application is not an acceptable form of notification. A notice of termination must adhere to the advance notice timelines stated in the provider's agreement.
Submit changes to:
Parkland Community Health Plan
Attn: Provider Relations
1341 W. Mockingbird Ln, Suite 400E
Dallas, TX 75247
Credentialing Decision Appeal Process
If an adverse initial credentialing or re-credentialing decision is made, PCHP will notify the provider of unsuccessful credentialing within 10 business days of the decision made. The notification shall include the reason for the adverse decision, a request for additional information (if applicable), and the right of the provider to appeal the decision with the instructions on how to appeal the decision made within thirty (30) Business Days.