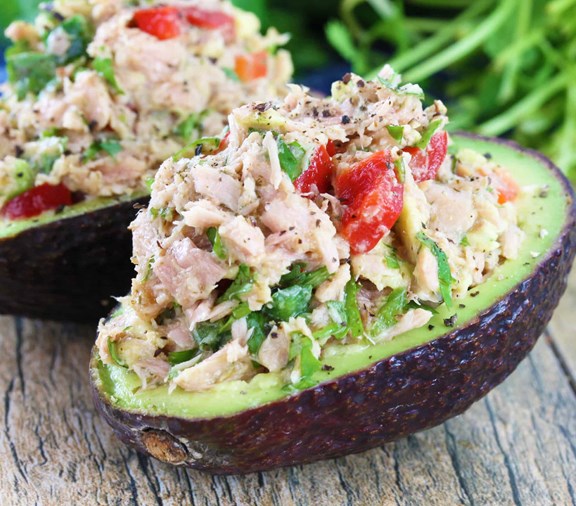 Cinco de Mayo Avocado Recipe
May 5, 2021
Cinco de Mayo celebrates Mexico's 1862 victory over the French in the Battle of Puebla. (It's different from Mexican Independence Day, which is on September 16.) Here in the United States, Cinco de Mayo has become a popular day to honor Mexican-American culture, spend time with family and friends, and enjoy great Mexican food.
Texans love Mexican food and know it can be both nutritious and delicious. Get in the holiday spirit today with this healthy recipe!
Avocados also are rich in potassium, fiber, and vitamins B, E, and C. In addition, they contain several plant-based nutrients, including:
Phytosterols – When consumed in recommended amounts, this compound can lower cholesterol, a risk factor for heart disease.
Leutin and zeaxanthin – These carotenoids function as antioxidants and protect healthy cells, especially in a person's eyes.
Tuna has more protein than chicken, and it is affordable and easy to find at the grocery store. Tuna also contains selenium, magnesium, potassium, and omega 3 fatty acids.
Healthy Tuna Stuffed Avocado Recipe
Makes 2 servings | Prep Time 10 minutes
Ingredients:
1 avocado, halved and pitted
1 (4.5 oz) can tuna, drained
¼ cup diced red bell pepper
1 tablespoon minced jalapeño
¼ cup cilantro leaves, roughly chopped
1 tablespoon lime juice
Salt and pepper (to taste)
Instructions:
Scoop out some of the avocado from the pitted area to widen the "bowl" area. Place the scooped avocado into a medium-size mixing bowl. Mash it with a fork.
Add the tuna, bell pepper, jalapeño, and cilantro to the mixing bowl. Pour lime juice over. Stir it all together until everything is well mixed.
Scoop the tuna into the avocado bowls. Season with salt and pepper.
Per serving: Calories 210 | Protein 17g | Total Fat 13g | Saturated Fat 2g | Carbs 8g | Dietary Fiber 6g | Cholesterol 27mg | Sodium 365mg
Can I replace the red bell pepper with something else?
Diced tomatoes or cherry tomatoes (halved or quartered) are a good replacement for the red bell pepper.
I don't like spicy things - can I leave out the jalapeno?
Yes – if you want to keep some heat, but not a lot, try a less spicy pepper like a poblano pepper. For more heat, try a hotter pepper like a habanero.